Outdoor conditions are not always favorable for you to go out and enjoy a good run. But that doe not mean that you can do absolutely nothing about it. That's where treadmills come into play.
Treadmill apps have enabled users to enjoy their routines and make them a lot less boring. So, if you're looking for the right kind of motivation or something that's downright thrilling, look no further!
After testing several apps for running we found that the Nike Run Club is the best for a treadmill workout. Using the Run Controls feature is easy. Also it has Metric Customisation option where you can set up metrics like heart rate, workout duration or distance. Connecting your music library is also simple.
8 Best Treadmill Running Apps
What makes an app worth downloading? That depends on what you're looking for, whether it's the coaching, sociability, virtual reality, or melody, we've got the right kind of app for every need.
All you have to do is download the one that appeals to you, motivates you to get on that treadmill, and crush your record as the miles fly by.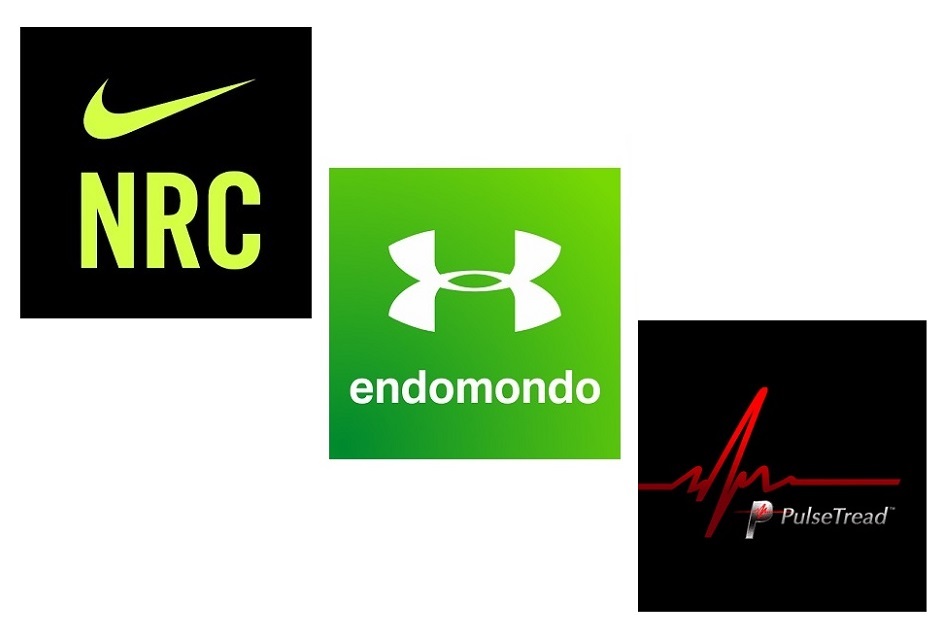 Nike Run Club
The Nike Run Club is very easy to use. You just have to put in the distance or the time you're going to run, press start, and you're good to go!
The information display that this application provides is unbeatable and will show you everything, including your time, distance, and attractive and flashy graphics to keep you updated with your work out details. This app is particularly made for treadmills.
It features an assortment of six different workouts within its 50+ guided runs, where you can even adjust your pace and incline settings. It is highly engaging with its audio instructions and inspiring tips from Nike's running coaches.
The Nike Run Club is also available on mobile, Apple Watch and Android Wear OS based fitness watches. You get a standalone Nike Run Club app on PlayStore or AppStore, which can be installed on mobile or your watch itself.
Fitbit OS
Fitbit OS is a fitness application used with the Fitbit activity trackers and physical fitness monitors. The Fitbit Premium is optimal for personalized guidance, for customized health programs and mindfulness and there are more than 240 video workouts that users can do at home.
Fitbit is one of the largest wearable technology companies. Their devices apply a PurePulse 2.0 24/7 heart rate tracking technology, as well as Active Zone Minutes to track fat burn heart rate zones. Sleep sessions are scored with a daily Sleep Score. Fitbit OS is available in a number of languages, and there are also a number of in-app purchases available for the fitness enthusiasts.
Manage your fitness progress, health and sleep with Fitbit OS as effectively as possible!
Treadmill Trails
The Treadmill Trails is nothing less than a 30-minute vacation to some of the world's most beautiful places. The app features visuals of exotic locations ranging from spectacular beaches around the world to Mountain Kilamanjaro to keep you on your feet!
Readily available for both Android and Apple devices, the application is specially designed for virtually driven runners and people.
The best part about the app? The locations' visuals and videos are saved on your camera roll, so you don't need to have a Wi-Fi connection to access this remarkable feature.
Zwift
The popular turbo training runners app, Zwift, allows you to navigate your fiery avatar through a virtual environment alleviating you from the indoor experience of running.
For this app, your treadmill should have an installed Bluetooth feature, a cadence tracker, and a speed tracker in order to link the app and the equipment for optimal monitoring of your vitals. Ambling around the virtual roads, this app is highly immersive and fun.
RockMyRun
If you think that tempo is essential during your run, allow us to introduce you to Rock My Run. This app is a great pick for you if you want to hype yourself up during your treadmill workouts as it offers an innovative and interactive music feature in coherence with the pace of the runner. So, the faster the runner goes, the faster the tempo goes.
This will certainly help keep your motivation up.
The app features music from every genre you can think of and gives you the leverage to choose tracks according to your taste with its custom mix feature.
Endomondo
Not interested in the extra doodads? Just want something basic and simple in terms of interface? This app is perfect for you!
Exclusively created to fit your specific training goals and areas of interest, Endomondo offers personalized training plans. You can also quickly connect with your friends or race against them for healthy competition.
PulseTread
Pulsetread is a great workout app for if you want either quick aerobics or high-intensity interval drills. Designed to deliver a trainer-led, brand new, and unique 30-minute cardio workout to your phone every day, you can choose your exercise music from your library or your preferred music apps. We personally like Spotify to be used with this application!
The app has multiple features and capabilities. It offers multiple levels of physical strength and stamina, ranging from beginners to advanced, audio recordings of professional trainers and music jamming options to make your workout upbeat.
Zombies, Run!
Last but not least, we have the perfect app for video game lovers!
If you're someone who can't get themselves to work out simply because you're so invested in your PlayStation and loathe the thought of having to get up and have a workout routine, this app is for you.
With the Zombies, Run! application, you not just run, you run in a virtual world infested with zombies where you run for your life while collecting supplies to keep you loaded.
You can even add your friends to your interactive zombie story to make it more fun. With features like GPS tracking and the ability to play music, this is one zombie apocalypse you'll enjoy!
Why Use a Treadmill Running App?
We would like to rephrase this question into 'why not?'. Because that's exactly what we think. Why not use a runner app when you have such great options to choose from. We've discussed everything in quite a detail, but if you're still not sure, we hope this section can change your mind.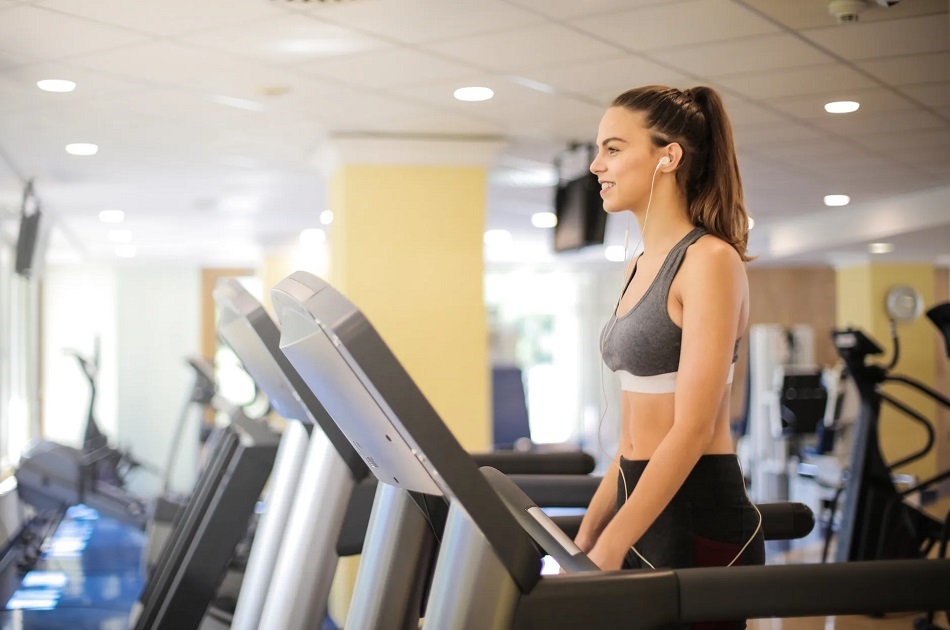 For Fun
Why perform a boring workout when you can get an amazing array of possibilities virtually running through the Hudson river park in New York or survive a complete horror movie adventure? Right?
We can all enjoy a little more excitement in our lives because let's face it; our routine activities are a little monotonous unless you're someone who enjoys running errands, cleaning, or in this case, working out without any music or immersion.
So, why not install something that makes your everyday treadmill workout an exhilarating experience.
Gives You Motivation
While being a couch potato has its perks, a good workout is essential for good health and fighting severe diseases. But for some people, that's certainly not much of a driving force.
That is why treadmill apps are important. Whether you're forced to go to the gym or simply prefer to use equipment in the privacy of your own home, these apps provide a good deal of motivation to anyone and everyone who has any access to workout equipment such as treadmills.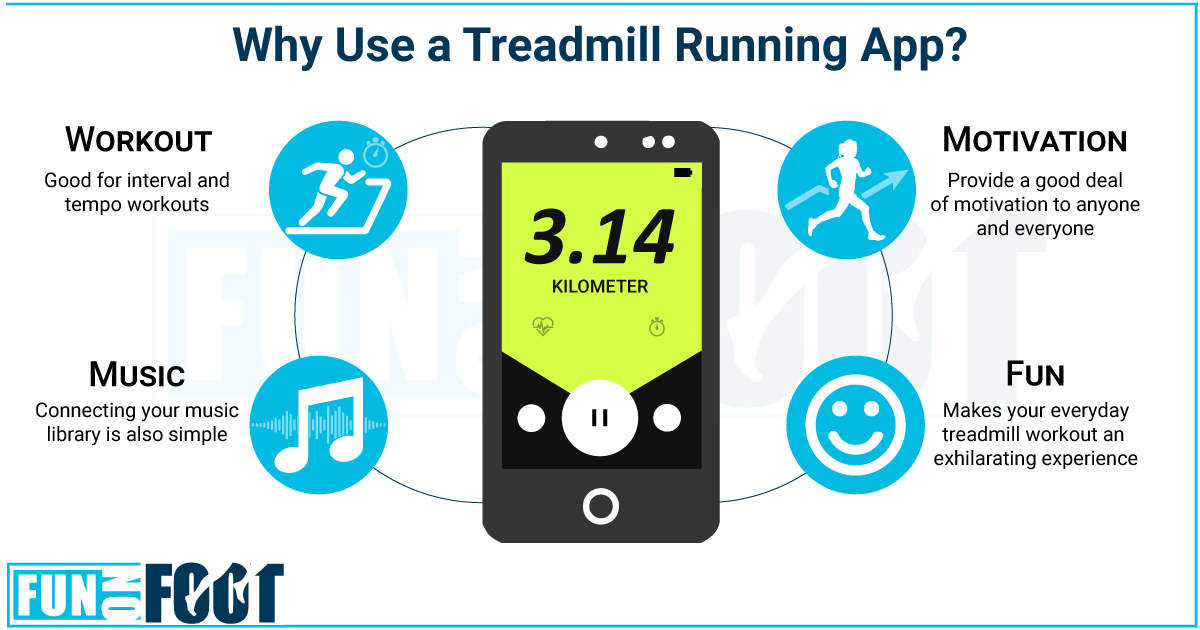 The quick and easy interfaces, customizable workout routines, music, virtually working out with your friends, professionally guided exercising plans and navigating your avatar through an outdoor escapade with a computerized simulation, these apps are bound to motivate you!
Good for Interval and Tempo Workouts
If you're relatively new and find it difficult to switch between running and walking intervals, you can find the perfect app for your particular needs making it effortless to switch between a run and walk by pre-programming it.
On the other hand, the right kind of music in sync with your tempo and keeps going higher as your tempo increases can make your isometrics just as prolific as they are engaging. This can be achieved by selecting the best treadmill app.
Does Strava Work on Treadmill?
Strava is a popular tracking service among runners and cyclists. Manual input helps to add data about treadmill running sessions with Strava. Having a clear GPS signal in the training location enables the proper functioning of Strava while running on a treadmill. Strava has its limits, but it is perfect for basic use, and manual input helps to track treadmill activities.


Conclusion
Whether you have just entered the treadmill game or you have been in the business for years, you know that it's probably not the most exciting exercise, but does that mean you're going to lose hope and cease your workout routine.
Treadmills save the day for many users. We have produced a list of one of the best apps that exist out there, each serving a different purpose so our diverse set of audiences can pick one according to their interests. We hope downloading one of the best free treadmill running apps will help you attain your goal and make your running routine a lot more exciting.