Working from home may be great, but your physical activity decreases drastically. Even the increasing use of technology reduces the time you spend exercising and being involved in physical activities. This is why the demand for treadmill desks has increased—you get to work from your desk without having to compromise on your physical activity!
So, here are the best treadmill desks and treadmill desk attachments for you to check out!
Treadmill Desk
The features of the LifeSpan Fitness TR1200 make it one of the most popular treadmill desks among customers!
This treadmill desk comes in black and gray and measures 68.5 inches x 28.5 inches. Plus, it has a large desktop surface area measuring 38 inches x 29 inches and a desktop with an adjustable height. It is mainly designed to support single users or small teams. The unit can support up to 350 lbs., while it weighs 252 lbs. The speed ranges from 0.4 to 4.0 mph.
Pros
Easy to assemble—you can start using it within 30 minutes of delivery!
You can adjust the work surface's height to a comfortable position according to your height
You won't have to worry about it making noise
The speed can go as high as 4.0 mph
It can run for six hours straight, which most consumers consider ideal
Has internal cable tracking, which helps prevent stumbling
Bluetooth allows you to keep track of your progress
Cons
The safety guard rails are plastic
There is a lot of distance between the user and the keyboard
Treadmill Laptop Holder
If you already have a treadmill at your house, you would not want to invest in another one that comes with a desk. Instead, why not get a desk that attaches to your current treadmill?
This SurfShelf Treadmill Desk is cost-friendly and can be easily installed on your treadmill. It comes with a Velcro strap to hold your device and is made of 100% polycarbonate. The item is 6 inches tall, 14 inches wide, and 15 inches long.
Pros
Cost-effective
Easy to attach and remove – only takes about a minute!
The strong Velcro strap prevents your gadgets from falling down
The desk fits most treadmills
Works great for iPad, tablets, and even books!
It fits in your gym bag
Cons
Might not fit your treadmill
Tightening the backplate strap too much will lift it up
The shelf blocks the digital display/controls and the built-in fan on the treadmill
Typing on your device can be challenging
Treadmill Laptop Stand
The Viozon Floor Stand comes in black and is made of aluminum with an upgraded and reinforced chassis.
The height of the table can be adjusted between 30 and 90 cm, according to your needs. The table is 15mm thick, 20.5 inches wide, and 14 inches deep. And it weighs 13.62 pounds, while the maximum weight load that the table can support is 17.6 pounds. The desktop size is 36 x 53 cm. The V legs stick out 17 inches, and they can be pulled in as close as you need.
Pros
Easy to assemble and disassemble
Height can be adjusted to your needs
Sturdy structure can easily support the weight of a laptop and mouse
Can be moved around as needed
Saves a ton of space
Cons
Some reviewers report that its adjustment is tricky
Moving it requires you to pick it up rather than sliding it
It may get wobbly because of its height and base
Treadmill Laptop Desk
The VIVO Universal Laptop Treadmill desk is another excellent desk you can use for your treadmill to multitask with no problem at all!
The tray and stand measure 11.9 inches x 10.5 inches and are compatible with most treadmill and laptop models. Plus, you can easily adjust the support bar's width to fit the handlebars.
The laptop tray can tilt from +10° to -10°, rotate a full 360°, and swivel 20°, so you can conveniently view and type on your laptop.
The item is 31.5 inches long, 1.57 inches wide, and 10.24 inches tall and can support weights up to 8.8 lbs. The treadmill laptop desk itself weighs 9.46 lbs. Anti-slip rubber pads are also provided to increase traction.
The laptop stand comes with a 3-year manufacturer warranty, so you can rest easy if you encounter any issues since they will all be covered with no issue.
Pros
Comes with easy-to-follow instructions
Your laptop is secure thanks to its sturdy steel construction
Can also be used on bikes
Easy to adjust in almost every direction
Affordable
Can be adjusted to your height
Anti-slip rubber pads protect your treadmill from scratches
Cons
Velcro strap is too small for many devices
Tray wiggles right to left
Limited angle adjustability of the laptop
Treadmill Desk Attachment
The HumanCentric Treadmill Desk Attachment is pretty simple. It uses a premium rubber surface that ensures that your laptop or any other device does not fall off while you're working. The desk attachments are 34 inches wide and 14.4 inches deep and come with Velcro straps to fit various treadmills.
Pros
Quick and painless installation process
The premium rubber surface keeps your device secure
Can fit various treadmill sizes
There is ample space to work on
Strong enough to hold heavier devices
Cons
Not suitable for treadmills that have a distance of greater than 33 inches between the inside edges of the handlebars
Does not tilt
Laptop Mount
The Fleximounts 2-in-1 Monitor Arm Laptop Mount is a brilliant choice if you want a high-quality yet affordable product.
The item weighs 11.02 pounds and is 18 inches long, 14.5 inches wide, and 7.5 inches tall. The laptop size suitable for this laptop mount is 10.1 to 17.3 inches, and the appropriate monitor screen size is between 10 and 24 inches.
It can rotate a full 360° and tilt from -85° to 15°. The durable hardware supports clamp or grommet installation. The laptop mount's weight capacity is 1.1 to 8.8 lbs., and the monitor mount's weight capacity is 3.3 to 11 lbs. You cannot install the bracket mount if the VESA holes do not measure 100×100 mm or 75×75 mm.
It has spacious channels that keep the cable organized and allow the wires to move freely. It also contains gas spring counterbalance technology to help the user switch work positions.
Pros
High-quality
Sturdy enough to hold the weight of your laptop
The installation process is simple
Cons
The instructions are difficult to follow
Can be challenging to adjust the height
Treadmill Desk FAQ
What is a Treadmill Desk?
A treadmill desk is a desk attached to a treadmill so that the user can walk while simultaneously using their laptop.
What are Treadmill Desk Attachments?
Treadmill desk attachments are desks that can be attached to the treadmill and can be added or removed as users see fit according to their needs.
Are Treadmill Desks Safe?
Yes, treadmill desks are safe. Of course, just like with other things, you need to be careful and safe. It would be best to take certain precautions to eliminate even the slightest risk possible. They are:
Keep all the cords and cables out of the path.
Take stretching breaks to avoid muscle stiffness.
Use a well-rated power plug only for the treadmill desk.
Don't get on or off the treadmill until the belt completely stops.
Do Treadmill Desks Really Work?
Yes, treadmill desks do work! As long as you get one that fits your treadmill and your requirements, they can work great. If you get one that doesn't fit, it won't work the way you expect.
Is Treadmill Desk Good for Health?
Yes, it is! A lot of time is spent on laptops, iPads, phones, or even books. Having a treadmill desk to use while doing other things is good for your health. It can:
Increase productivity.
Promote a healthy body weight.
Help you maintain strong bones.
Lower blood pressure.
Lower the risk of Type 2 Diabetes.
Improve mood and reduce stress because of the release of endorphins in your body.
Increase creativity and cognitive skills
Reduce the risk of neck and back pain
Reduce the risk of early death
How to Choose a Treadmill Desk?
It would help if you considered different factors when choosing the right treadmill desk. These include:
Usage: How much and how long will you walk on your treadmill desk?
You need to find a treadmill desk that can last as long as you need. Before going for a purchase, make a plan for the time you will spend on it, so you have more clarity.
Noise: Will the treadmill distract people around me?
If you plan on taking business calls while on the treadmill, you will need a treadmill desk that will produce less noise. It is also essential to think about how much noise you can tolerate.
Space: How much space do I have for it?
If you get a treadmill desk that is too big, the place will look and feel congested. First, it is essential to determine how much space you want to dedicate to it.
Assembly: Is it easy to assemble and disassemble?
Read the product instructions to analyze how much work it requires to assemble and decide accordingly. The easier it is to assemble, the better!
Belt: Is the belt long and wide enough for you?
Look for treadmill desks with a belt long enough to not slip off the treadmill and wide enough so that you are not stepping on the edge of the treadmill.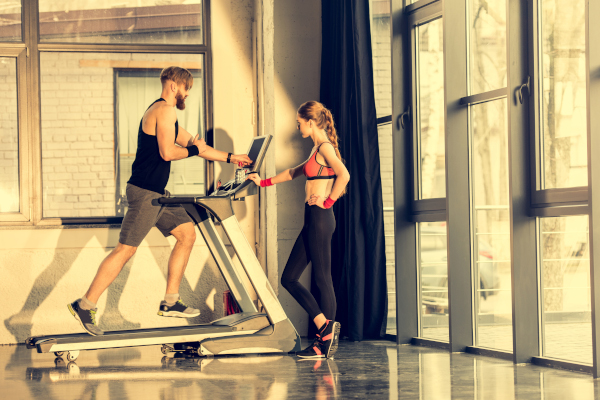 Conclusion
We can say one thing for sure: A treadmill desk is an investment you won't regret. Whether you want to do office work or watch Netflix, why not do it while also looking out for your body?
Purchasing the right treadmill desk for yourself can be quite tricky. We hope this review provided you with enough information to guide you through your buying process, and you are now ready to purchase the ideal one!