Do you need to know what the best treadmill lubricant is? This guide will give you a few of our top recommendations. These are some of the most highly rated products, which means they're tried and true! Let's get started.
We understand that finding the best treadmill lubricant can be difficult. There are many different brands and types of lube out there! What we've done is carefully selected a few of the top lubes on the market, and found a variety of different treadmill brands this lubricant works for.
Note: Please be advised that treadmill lubricant is not a permanent and exclusive solution to your equipment needs. It is a temporary fix at best! Best treadmills also need an experienced tech for total restoration, as parts wear out over time.
Best 5 Treadmill Belt Lubricants
To make sure your treadmill is well-lubricated, you need to choose a good running belt lubricant. Here are some great options to lubricate your treadmill.

IMPRESA Lubricant
Impresa is made from 100% silicone what most treadmill manufacturers recommend lubricating the belt with. Its silicone-based lubricant formula is specially curated for a wide range of treadmills. It is suitable for all types of treadmills, be it home, personal, compact, folding, gym, etc. With the EZ squeeze bottle that comes with a twist top, this silicone lubricant is very easy to apply when compared to any other liquid.
This silicone lubricant reduces noise and eliminates belt hesitation; therefore, it helps to extend the life cycle of your treadmill. If you keep on using Impresa as a treadmill lubricant, you can save enough money from not going to any outsider for repairing and maintenance.
It is made especially in the USA, and if a customer is not satisfied with its performance, they can easily return it as the manufacturers have a refund policy. This works for nearly all types of brands, and this lubricant is even suitable for a wide range of brands of elliptical as well. All in all, this lubricant keeps your machine quiet so that it keeps on running for a long amount of time.
Spot On Lubricant
This lubricant squeeze bottle comes in two options. Either you can use it from its twist spout and dispense the liquid from its top the same way as you apply silicone spray, or you could replace its twist top with an eight-inch extension tube cap. If you choose to go with the latter, it will help you reach under the running belt, reaching places you won't be able to reach otherwise. Moreover, if you choose to go with an eight-inch tube, you don't have to worry about loosening the cap, which means there will be close to no spill.
This lubricant is non-toxic, and it does not give off a weird odor. It even works efficiently on both home and heavy-duty treadmills. The Spot On treadmill walking belt lubricant usually comes in a 4oz bottle. If used finely, one bottle can easily last an entire year, which means you can apply this at least four times for treadmill lubrication. So if your treadmill needs a non-petroleum lubricant, then this is the perfect pick.
Noosa Life Lubricant
Treadmill belt lubricant by Noosa Life is one of its kind; it is featured on many popular news outlets such as ABC, NBC, Fox, and a couple of others. Being featured on such highly-rated channels speaks for its high quality.
If you are tired of lubricant applicators that are always getting clogged up or are always leaking, then it is time to invest in this unique safe-close applicator. Once you are done using this lubricant applicator, you can put its stopper back in place so that there is no mess, no dried product, and no stickiness outside the bottle. To use this treadmill lubricant, all you have to do is insert this custom-created applicator beneath the treadmill belt. You don't have to tighten any caps, and you don't have to loosen any screws.
Manufacturers recommend using this lubricant quite often as it will save its owners from costly trips to machines and repair warehouses. In addition to this, these bottles are designed and manufactured in the states, which help them to keep monitor its performance, purity, and all the other aspects that makes this lubricant a top priority of healthiness-driven and fitness enthusiast treadmill users.


Spot On Double Lubricant
If you are looking for a treadmill belt lubricant that can also act as a nice lubricant for your other exercising machines, then look no more. This Spot On treadmill belt lubricant can help you eliminate regular noise and also helps increase the life of your belt and motor. All of these factors can help enhance the efficiency of your machine and will also make your workout routines safer.
In addition to a twisted cap, it comes with a flat cap that can help keep this bottle safe and secure when shipping. The users of these lubricants have said good things about it. So if you have a LifeSpan, Horizon, Sole, or a treadmill of any other fancy company, then this lubricant will be a perfect fit for your treadmill belt.
If, after using this lubricant, you realize this is not what you were looking for, which is highly unlikely, then you must know that it has a 100% money-back guarantee. Eliminate all hindrances between you and your workout routine with this lubricant.


Essential Values Lubricant
This lubricant is designed to extend the life of your treadmill belt while being non-toxic, smell-free, and safe. Unlike the lubricants that are mentioned above, this one comes in an 8oz bottle. It means this bottle of lubricant can last for at least two years for treadmill lubrication. Other than this, you can easily use this bottle for at least eight applications. This bottle is good for 40 to 160 hours of treadmill use.
This lubricant is made, tested, and improved in the USA, which means you don't have to worry about its compromising quality. This bottle says it will make your workout smooth and easy.
Applying this lubricant is a piece of cake; all you have to do is follow three simple steps. The first step is to lose the running belt and the second step is to squeeze this bottle of lubricant underneath the belt. Roughly you will apply 1/16th or 0.5oz of the bottle. The third step is repeating this entire process on the other end.
Your hunt for a perfect and fair-priced treadmill belt lubricant stops here.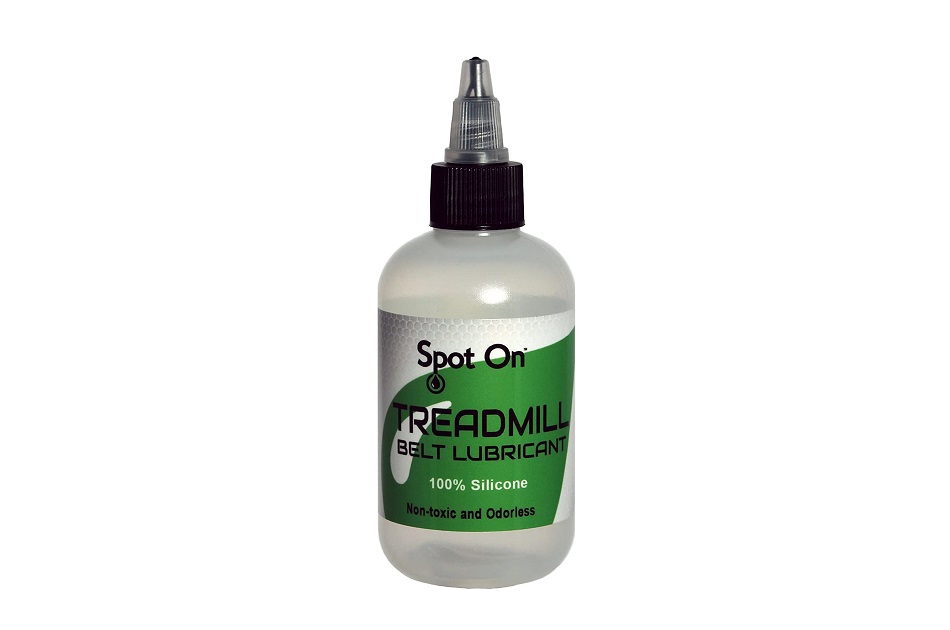 Conclusion
We hope you've found this article helpful as we shared our favorite treadmill lubricants. Now that you know what to look for in a quality product, it's time to buy your own and see the difference!
So whether you want one that is eco-friendly or non-toxic, one with an easy application system or multiple uses, we've got something for everyone.
But don't take our word for it – try them out yourself and let us know which ones work best for you!