Since treadmills have high levels of vibrations, they tend to create annoying noises. Especially if you're living in an apartment complex where your neighbors can hear the treadmill's thrumming noise, you need a treadmill noise reduction mat.
Treadmill mats for reducing noise are floor mats placed underneath treadmills. This is a thick mat that can absorb vibrations of the treadmill, thus reducing noise and vibrations, and protecting the floor beneath.
Best Treadmill Mats for Reducing Noise
Benefits of a Treadmill Mat – A Buyer's Guide
Treadmill mats are the essence of the machine itself and they need to be both durable and strong in order to provide you with the maximum benefits. A good quality mat can go a long way and ensure that you get the best out of your workout. There are countless benefits associated with the item. Here, we discuss some of the major ones.
Noise Reduction
You certainly don't want the whole world to know when you are running or jogging on a treadmill. The noise becomes a major issue when you are running at home, or at night. Even at the gym, it is important that the least amount of noise is produced to keep everyone's peace and comfort intact.
There are many amazing treadmill mats for reducing noise in the market that come with high end construction. These ensure that noise is kept at bay at all times, even when you are running super-fast. When you step and hit the deck of the machine hard, an excruciating noise is often produced. The inclusion of a good quality treadmill mat will ensure that this is kept low and far from any ones notice.
Vibration Reduction
Anyone who has ever ran or speed-walk on a treadmill will know of the vibration issue. This is often produced when your feet hit the machine hard. This results in the treadmill vibrating and producing and annoying noise. You will feel this more at home because the floor is not specially build to contain this vibration.
A good way to prevent this vibration is to use a standard treadmill mat with relatively more thickness. You can also use a more durable unit to ensure the best results. Along with this, there are a couple of other things that you can do to reduce vibration.
You can lubricate the belt of the unit and ensure the belt is stable and in place all the time. You also need to check the bearings and relocate the treadmill to a smoother surface. Other things that might influence the results are use of right shoes and running at a lighter pace.
Floor Protection
If you are worried about damaging the floor of your house by putting a treadmill on top, you are in for a treat. A high quality mat can help a great deal and protect your floor from any damages or scratches. It also reduces the number of breaks that a floor might experience in the future.
Most wooden floors tend to get dumped or damaged when the pressure from a heavy machine is applied on them. The tiles can also age and become more vulnerable to scratches and marks. So using a treadmill mat is the perfect solution for floor protection.
Moreover, gyms that have rubber mats underneath the treadmills tend to care less about the pace of the runners. They allow athletes or regular customers to run as fast as they can.
No Slipping
The major accidents that occur in a home gym are usually caused by treadmills. People who run fast or walk at a fast speed tend to lose their balance because their treadmills aren't very stable. This can result in serious injuries, especially of the face and the neck. This problem is further exasperated in situations where people are running with a steep incline.
A thick mat will ensure you don't slip. Its presence will keep your machine stable from underneath and hence ensures that it won't move here and there during the running process. Another benefit is that you will feel safer when walking or running on such a mat.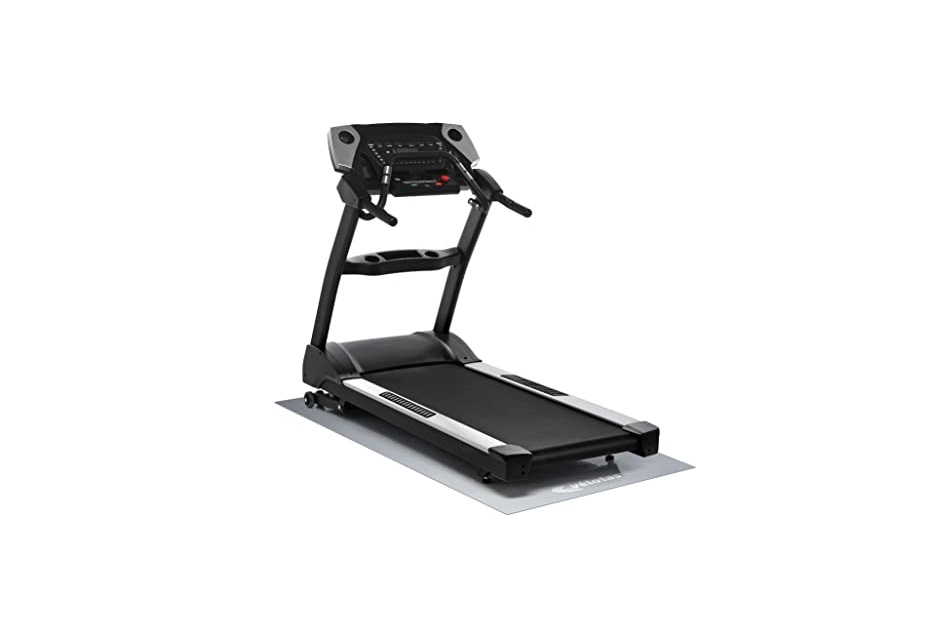 Types of Treadmill Mats – According to Floor Types
Just like exercise equipment, the flooring of all gyms is different too. The texture of the floor makes a great difference as it influences what kind of mat you should use underneath the treadmill.
Here are some appropriate options for the different types of floorings.
Tiled Floors
Tiled floors are undoubtedly the most common types of floors in the world right now. Their popularity has pushed many companies to produce special treadmill mats to go with them. Such a model will ideally be made of an EVA foam material that is high density and provides greater durability and strength. They also tend to be lightweight and soft thus ensuring greater portability.
They usually come with a thick body that has a material density of a higher degree. This will be enough to support all your fitness exercises at a home gym or a regular gym. The use of lead and latex-free material also ensures easy cleaning. Unlike many other mats, you won't have to use a damp cloth to remove additional debris from these treadmill mats. You can simply use a mop or a broom to clean the mat thoroughly.
Carpets
There are many gyms that are equipped with carpets and hence need a special kind of mat to go underneath the treadmills. You will have to buy a durable model that is also lightweight. Such a combination is not only rare but also very difficult to find. But if you look hard enough, you will probably get a high quality mat to go with your unit.
Such a model should ideally be made with PVC and should be installed directly over the carpet. It should also come with an interlock design that can fit tightly without separating over time. This not only ensures longevity but also provides your unit with greater reliability. Moreover, the pop-together system is also very well suited for any gyms situated in basements or garages.
Another reason, these treadmill mats are highly recommended is because they offer a perfect resistance to water and shock. Even if you spill acids or any oils on top, you can rest assured that you won't have to spend too much time cleaning the unit.
Hardwood Floors
Hardwood floors have risen in popularity over the recent years and many gyms all across the world are switching to the new norm. With such floors, you will need a mat that provides greater stability and comfort. You can get a model that cushions you from any level of damage. It should also provide better protection from the high vibrations caused by the treadmill.
Moreover, such a model also needs to be persistent when you are running at high intensity. It should come with feature bump and top surface texture that can provide better ergonomics. These not only increase the aesthetic appeal of the unit but also provide greater durability and support for heavy exercises.
Sizing and Cleaning the Treadmill Mat
We have already established the importance of placing a mat underneath your treadmill, but the discussion doesn't end there. You will have to size your mat appropriately to get the best results. There are many options available in the market that differs in size, material and thickness. These features also influence the price of the unit, but more on that later.
Sizing a Treadmill Mat
If you have a large treadmill, you might want to buy a bigger mat to go with it. The material of the mat also determines its size. If you are using PVC made unit, then you will need the product to be relatively bigger than the treadmill. On the other hand, if you are using bark rubber or a high density form, you might want to stick to a smaller length. This will ensure that you don't fall or slide off.
There are also other medium sized foam mats available with interlocking foam panels. These are approximately 5 to 8 inch thick and come with edges that are trimmed. This great option not only gives a good finishing look to the unit but also ensures it is easier to clean. These also provide good noise reduction and come with the ability to reduce vibrations to a large degree.
So when buying your next treadmill cover, make sure it is between 48 inches and 72 inches. This is important because most treadmills are also sized accordingly. Moreover, if you want to run at a higher pace, you might want to consider a good material too. Once you have sized the mat, it is important to know the next step.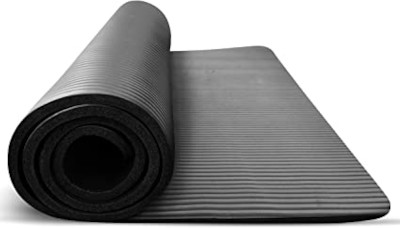 Cleaning a Treadmill Mat
You need to stay away from accumulated dirt or debris that might decrease the efficiency of your unit. One great way to do this is to clean the model regularly. You might find this hard at first but with regular practice, you will get the hold of it. Here are a few simple steps that you need to follow.
Steps to Clean Your Treadmill Mat
The first step is to unplug the unit from the electrical source. This is important because you don't want to get hurt by any sudden movement or vibration of the treadmill.
Next, you will have to remove the treadmill from the mat. This is not very hard because most machines can be moved easily. You can either pull out the mat or simply remove the treadmill.
Then, by using an anti-duster, you need to remove any accumulated dust from the belt. You should also dust away any areas that are around the belt or underneath it. This is to ensure you prevent a thorough dust buildup.
If you don't have a proper anti-duster, you can also use the regular broom or a vacuum cleaner. The latter provides greater efficiency whereas the former is relatively more affordable.
Then you have to wipe down the belt. This can be done using a slightly dampened cloth. You can have one specified for the task or use a disposable one each time.
You should also take care not to drip any water or liquid on the belt. This is to ensure that no foul smell emerges from the machine once you start running.
You can also rotate the belt using your hands to reach the entire tread surface. This will ensure that the dampened cloth is able to reach all the different parts of the machine easily.
Then you need to dry the treadmill belt. This can be done with a clean paper towel or a clean cloth. You can move the belt to ensure that all the areas are properly dry.
Ideally, you should always keep a spare pair of shoes for this activity. This is because a lot of dirt and debris may harm the texture of your skin in the long run.
It is also important that you don't use any type of cleaning or industrial solvents while cleaning your belt or your mat. This is important because such liquids can stay on the surface and can result in accidents.
Closing Thoughts about Treadmill Mats and Noise Reduction
Exercising daily and remaining fit is important but so is mental peace and safety. Getting a good treadmill mat reducing noise can provide a much better protection for your body and a quieter environment. These units are not only extremely durable but they also increase the aesthetic appeal of the unit. You just have to look at the flooring and buy an appropriately sized unit to go with it.
Once you have done that, remember to clean and maintain your model regularly so that it doesn't lose its efficiency over time.