Are you desperate to acquire a fit and attractive physique but not in the mood to go to the gym regularly? Well, there's no need to worry as long as we have a wide variety of effective treadmills, exercise machines available on the market. These treadmills not only make our workout sessions engaging but also relieve us from paying monthly gym fees.
A List of the Different Types of Treadmills
Treadmills According to Their Power Supply

Magnetic/Manual Treadmill
Electric/Motorized Treadmills
Hybrid Treadmills

Treadmills According To Their Use

House Treadmills
Club Treadmills
Anti-gravity or Medical Treadmill
Desk Treadmill

Treadmills According To Their Shape

Folding Treadmills
Curved Treadmill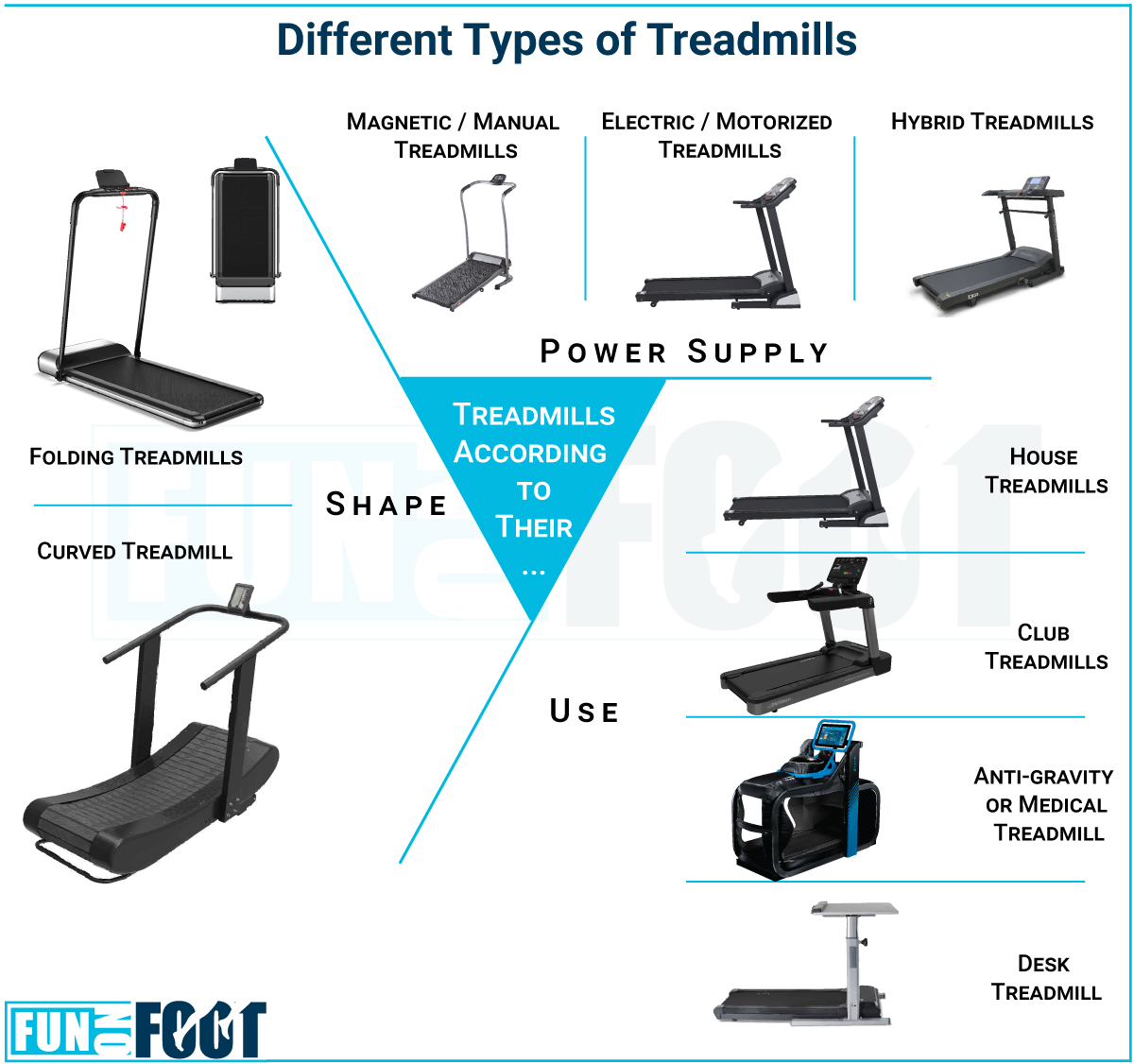 Types of Treadmills – Power Source, Use and Design
Among so many options of treadmills, we can now easily pick one that goes perfectly with our requirements, budget, and desires. Some high quality models even boast such a user-oriented design that they occupy less space to turn our rooms into a home gym. Buying a treadmill includes some thinking so let us examine the different types of treadmills for a cardio workout.
Treadmills are mainly divided into three broad categories based on the power source they accept, their purpose of use, and design. Therefore, we need to understand the functions, credibility, and possible downsides of each kind of product before adding one to our cart.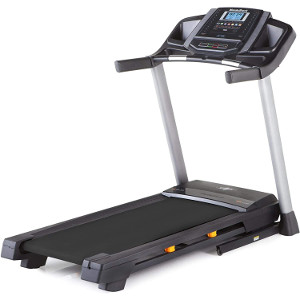 Treadmills According to Their Power Supply
This whole range of treadmills is further divided into three kinds of models due to the difference in the power supply system.
Magnetic Treadmills or Manual Treadmills or Non-Motorized Treadmills
As the name implies, manual treadmills work on magnetic principles. Manual treadmills also mean that this type of treadmill unit requires the user to exert force to push the running belt backwards and move as if he is walking or running. In other words, the exerciser has to lay a great amount of force to keep on moving on manual treadmills, due to which he may experience some extra pressure or strain on his joints, hip muscles, and feet.
For the same reason, people initially get tired quickly when using a magnetic treadmill; hence, fewer calories are burned with such a treadmill. Thus, it would not be wrong to say that this kind of treadmill is more appropriate and fruitful for advanced workout champs.
Since manual treadmills do not possess any motor assembly, they come in less bulky dimensions and has a relatively smaller footprint. Moreover, most manual treadmills are quite affordable compared to rivals. Also, they relieve you of energy costs because they have nothing to do with electricity.
Electric Treadmills or Motorized Treadmills
In many treadmills, there is an electric motor installed in the frame, which consumes electricity to run. Such types of motorized treadmills are commonly known as electric treadmills.
What makes it unique is the system of motors that enables the treadmill belt to drive on its own at the push of the power switch. Furthermore, there is a control-cum-display panel situated at the front. Through this panel, gym maniacs can manage the speed of the drive gear and monitor the distance, exercise time, burnt calories, and much more.
All of this shows that motorized treadmills come with plenty of advanced features along with several facilities, such as a power incline.
Since the running belt of a motorized treadmill moves by an external force, people get an opportunity to focus completely on physical movement and lose more fat faster. If you are looking for some high-tech treadmill and don't mind the high price point, you can consider an electric treadmill for productive physical training.
Hybrid Treadmills
A hybrid treadmill is considered to be more efficient than the other two types mentioned above. In such a treadmill, we find an interesting blend of characteristics of both a treadmill and a cycling machine, as well as a stair climber or elliptical machine. Combining the treadmill benefits with those of an exercise bike and an elliptical trainer helps you get those calories burned more quickly.
Being an all-rounder, it boasts a well-thought-out design and durable stainless steel construction. It has a wide running deck to be employed as a regular treadmill base. Moreover, it has a padded seat and two pedal-like platforms for using the unit as a low-impact bicycle.
Besides, the frame is also capable of transforming into stairs that people can use for stair lunges, pushups, step-ups, and other workouts that include stairs. All these modes of treadmills are configured with the help of an LCD console. By this panel, you can also make sure to keep a check of your heartbeat and program the running belt speed.
This motor-powered unit would be a good pick for a fitness freak who prefers a single machine for different exercises. It is best for burning fat, improving cardiovascular endurance, and arthritis patients.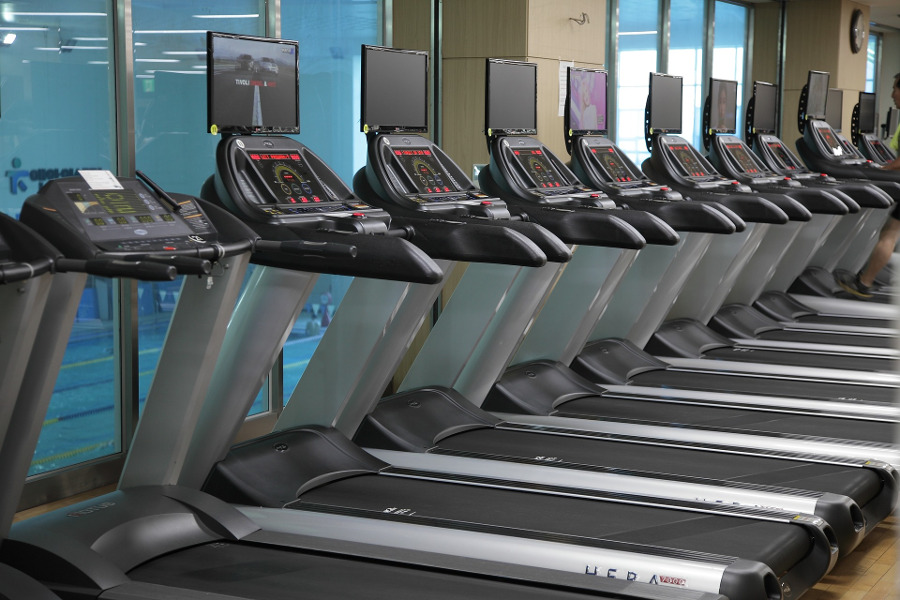 Treadmills According To Their Use
The frequency, purpose, and capacity of use can also be used to categorize treadmills. That's why manufacturers try to add different combinations of features in treadmills, relevant to the buyers' demands, be it either a low-impact cardio exercise, a brisk uphill walk, or a marathon training.
House Treadmills – also known as Home Treadmills
Keeping a good treadmill for home use benefits us in many ways. It is the best option that allows us to perform exercises according to our tight schedules. Moreover, we can stay fit without facing the hassle of traveling to the gym to fulfill our fitness goals. On top of it all, we can work out and lose weight in our home's peaceful environment.
Houses don't have spacious rooms as gyms have. However, this is not a problem at all because home treadmills are designed to suit the compact dimensions of normal-sized rooms. Usually, they have a six-feet long and three-feet wide chassis, which does not cover much space in a room.
They incorporate heavy-duty motors to sustain the load of obese individuals. Apart from that, inclined decks also result in people making extra effort and laying more pressure during the workout. Therefore, motors are powerful enough to keep the treadmill's performance unaffected despite all these factors.
If you think a house treadmill lacks the latest technology, it's time you try one out. In fact, it owns a couple of modern programs like iFit compatibility, Wi-Fi connectivity, pre-programmed workouts with personal trainer options, and so on to be an important accessory of home gyms.
Club Treadmills – Commercial Treadmills
No fitness center or commercial gym environment is considered fully furnished if it does not have a high-quality treadmill. As a matter of fact, fitness centers are the place where a commercial treadmill is needed or used the most.
Due to heavy usage, club treadmills incorporate exceptionally heavy-duty motors and a strong build. This well-founded construction encourages heavyweight people to lose unwanted fat with ease. The motor power of these treadmills generally lies anywhere between three and four horsepower.
In gyms or professional health clubs the fitness equipment remains in commercial use constantly for long hours. Therefore, club treadmills are equipped with rugged, large, and silicon-made belts that don't ask for frequent replacement or maintenance. Additionally, such a durable running belt can cover a distance of up to 15,000 miles.
There are various in-built programs found in gym treadmills, including Bluetooth, Wi-Fi and app connectivity, and heart rate monitor for tracking heart rate, distance, speed, and lost calories. This helps in making workouts fun and motivating.
Along with the maximum speed of ten mph, commercial treadmills also provide the freedom of adjusting the angle of the running deck's plane. This exercise equipment is a bit heavy on the pocket, yet opportunistic to the nth degree.
Anti-gravity Treadmill
Nearly every person wishes to look sleek and smart, but not all are able to work out on regular treadmills. There are many people who can't use this equipment because of joint diseases, injuries, or excessive weight.
Nonetheless, technology has introduced anti-gravity treadmills for such people with a high maximum user weight. Such a treadmill has a profound modification in its design as well as working.
The construction revolves around a large plastic bag/casing, which forms a chamber when air is blown into it. There is a zipper on the top to keep it airtight. The exerciser passes his legs through a hole into the chamber and gets his waist-length lower portion covered by the bag.
Upon zipping it up, gravity drops down in the bag, leading to a drastic reduction in the overall body weight. It is the user who feels less weight, though there occurs no change in the actual body mass or load. This way, the unit supports up to 80% weight of the exerciser and assists him in walking or running easily.
With the help of this technology, it becomes convenient and comfortable for heavyweight workout enthusiasts to arrange keep-fit sessions now and then. This treadmill also acts as a physiotherapy machine for patients of osteoporosis, arthritis, back pain, and spinal cord.
Desk Treadmill
This type of treadmill stands out in the crowd on account of its resourceful structure. The treadmill is no different from others, but above it is a tray-like desk at the height of the exerciser's upper body.
This desk is wide enough to keep a laptop, computer system, books, mobile phone, and a few more little accessories. On the same desk, people can rest their waist as well and can alter the desk's height accordingly. The desk is sufficiently stable to stay unshaken while the person runs or walks on the treadmill.
It's a wonderful exercising machine for office goers who find it hard to take some time out, even just for a walk. The belt's speed, maximum of four mph, is also favorable for them to carry on typing, reading, and scrolling the screen, besides doing a workout.
On the whole, when you buy a treadmill like this, it makes sedentary lifestyles more active and fit for all office workers.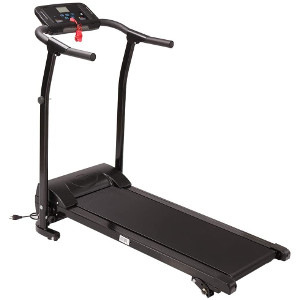 Treadmills According To Their Shape or Design
Alongside power source and purposefulness, there is one more ground on which treadmills are classified into two branches. And it is the shape of the device.
Let's see how these two types are different and what makes them worth the investment.
Folding Treadmills
Being able to afford a high-end treadmill but not buying it because of limited space issues is really heartbreaking. In circumstances when your homes are not capacious enough to accommodate a normal treadmill, we recommend you to consider a folding treadmill.
It is very clear that fold-up treadmills have nothing special except for the flexibility to fold down. But this kind of modification is something apartment residents yearn for to enjoy workouts at home.
The front-standing platform folds down towards the base, and the entire unit becomes more compact. These treadmills are also comparatively lightweight and come with wheels so that you can easily maneuver them. Once the machine folds down, you can place it in any narrow corner or slide it under a table.
But when you unfold it, it will come back to the shape and dimensions like any other home treadmill. Consequently, an equal amount of space will be covered by this and other treadmills.
The benefit of owning a folding treadmill is that you can store the unit in any compact location. In turn, it will not disturb you for the time it is not in use. Furthermore, it is very easy to move.
Curved Treadmill
As the name might suggest, a curved treadmill is an exercise machine whose base is slightly curved. The best part is it does not run on motors.
Your feet play a major role in propelling the belt. First, you step forward on a point, which is somewhat lifted. When you move your second foot forward to walk or run, the other foot pushes the belt behind. This pattern of foot movement enables the belt to propel without the motor.
This self-powered device teaches you to overcome ground friction and run smoothly on hilly and resistant pavements. You also learn to run faster for a long time. Mostly, athletics and sports activists reap the benefits of this equipment.
It is more on the pricier side. But the one-term investment seems to repay each penny by saving huge electricity expenses and ensuring long-lasting performance.
Conclusion – Important Things to Remember about Treadmill Types
All the treadmills intend to lose body fat and make people smart. However, the difference in their construction, design, functions, features, and working makes each model even more versatile and serviceable. The more the versatility, the more the usability goals. You can choose both manual and electronic treadmills, keeping in mind that the motorized treadmills offer several additional features.
As for special purposes, we have, desk, curved, and anti-gravity or medical treadmills. All these do the same job in an extraordinary way. Arthritis, osteoporosis, rehab individuals, and preoccupied office employees should think about these types of machines for getting in shape.
Foldable, residential, non-motorized, and hybrid treadmills also offer a bundle of exciting and safety features. Purchasing any of these products would be a long-term investment for pro-level and health-conscious individuals.
In short, everybody can find the right treadmill according to his personal interest. But make sure you keep in mind that you must be aware of your needs, budget, and space restrictions. Only then will you be able to get the money's worth out of the product.
Having said that, there should be no excuse for missing a workout and compromising health anymore.