Purchasing the best treadmill can be a daunting task for many. The main reason so many people struggle is because of how difficult it can be to settle on which quality treadmill model is best for your home situation and workout sessions.
But how do you choose the best treadmill for you and your home?
How Do I Choose the Best Treadmill for Home Use?
The main aspects of a home treadmill you need to consider are size and storage. Both the adequate room at home and the length of the belt; different belt lengths are suited to different activities, such as walking, running, etc. Consider good performance, such as having proper top speed, and also fitting comfort for the runner's body type.
Best Treadmills For Home Use [date format='Y']
ZELUS 750W Electric Folding Treadmill
Pros
Foldable
Quiet
Lightweight, small design
Bluetooth compatibility
Cons
Very slim belt
Short belt
Non-adjustable incline
Affordable, slender in design, and smartphone compatible — the Zelus 750W ticks a lot of boxes for both convenience and ease of use.
Besides the main feature of this option, which is that it can be folded away when not in use, there's also the beauty of its five-layer treadmill belt, accompanied by anti-skid side belts.
As a result, those less experienced in running should be able to work out at home with peace of mind.
Furthermore, you'll be able to quickly and easily adjust your workout routines from the LCD screen, positioned at the front of the machine. This is a highly responsive and versatile treadmill console, offering up to 12 different programs.
In spite of these solid features, however, this particular treadmill is a lot slimmer and shorter than other home treadmills, which might not suit your running gait, desired workout, etc.
ENDURA-RUN DESIGN: Built to last a lifetime, the ultra-strength construction can handle any intense workout you throw at it. Able to support up to 220 lbs, it easily withstands intense daily use. The large 5-layer running surface and impressive shock absorption technology compliment an amazingly quiet 750W motor.
ADVANCED SAFETY FEATURES: Our anti-skid mat ensures stability in every step. The safety key connector, speed control, and emergency stop button located conveniently on the handle offer protection and control throughout your workout. Adjustable speeds range between 0.6 mph to 6 mph (1-10 KPH).
LED DISPLAY + DUAL SPEAKERS: A clean and crisp LED monitor accurately displays your speed, distance, time, and calorie count. Convenient on/off buttons on the handrail with quick start options get you moving immediately. Enjoy your favorite music through the integrated dual speakers while two cup holders keep you hydrated.
RUN SMARTER: Get detailed health reports and improve your training with our included Fit Show app with easy to navigate Bluetooth connectivity, compatible for both Android and iOS. Comes with speed controls and 12 workout programs designed to challenge your endurance and pace.
EFFORTLESS STORAGE: With integrated wheels and a 2-pin locking mechanism, there will be no scratched floors, banged walls, or ripped carpet. Say goodbye to oversized treadmills that take up half the room! Just fold, roll, and store
Julyfox 1200W Electric Folding Running Machine
Pros
12 workout programs
Quiet
Foldable
Integrated smart device holder
Cons
No wheels (for mobility when folded)
Not suited to heavier set individuals
No incline
Remarked on for its powerful motor and wider anti-slip belt, the JulyFox treadmill is a fabulous home runner choice.
Sporting 12 fitness programs to follow, you can simply set up and get running without much hassle.
What is more, you'll be able to set up your own tablet in the tablet holder so that you can watch your favorite TV shows, watch motivational videos, and so forth.
The treadmill also creates very little noise and is easy to store away, and so it can slot into your home life without fear of disturbing others, be that with sound and/or space. In fact, when the treadmill folds up, it only takes up 0.8 square feet.
Nevertheless, while it comes with many good features, this is another model which doesn't appear to offer any incline training options.
What is more, it should, ideally, be stored horizontally as opposed to upright, which could prove an issue for some treadmill buyers.
[2 in 1 Home Treadmill]You can fold up the treadmill as under desk treadmill with a maximum speed of the running belt of 4MPH, you can easily walk under the desk while working. When the treadmill is risen, it becomes a normal treadmill with a maximum speed of 8.5 MPH, you can run as normal. Whether you want to walk slowly or run fast, it will meet your different need.
[Remote Control Include]Easier operation with 3 ways control, you can control the slim treadmill speed or stop the treadmill by pressing the dashboard or remote control or your smartphone. The built in safety key is to ensure instant shut-off under emergency situation.
[Large Running Belt]The 16 x 43.3 inch large-area rubber running belt of folding treadmill is shock-absorbing and non-slip which offers enough room for you of all fitness levels and sizes, providing more comfortable and more sturdy workout experience, you will have plenty of run to walk or run for all types of users.
[Easy-to-Read LED Display]The multifunctional LED display on motor clover tracks your performance including time, calorie, speed, distance and step, promising a superior and effective home treadmill workout.
This electric treadmill with 2.5HP low noise motor ensures perfect performance for running, jogging or walking in the comfort of your home environment.This folding treadmill with transport wheels can be placed under the sofa, corner or bed, reducing the floor space and making it ideal for any room. No tools needed for assemble,just need to rotate the knob,you will get the job done.
LifeSpan TR4000i Folding Treadmill
Pros
21 programs
Foldable
Bluetooth connectivity
Large belt
Cons
Larger sizes (even when folded)
Shorter handrails compared with other models
This LifeSpan treadmill is a popular home workout option and with good reason — offering as many as 21 built-in workouts and programs, accompanied with the convenience of a larger treadmill belt, it's an ideal fit for avid runners and long-distance running.
What is more, you can connect your smart devices to ensure you can track your workout data using your favorite fitness apps alongside the programs already on the treadmill console.
As for the console itself, it's a high-functioning piece of kit that is easy to use, while also offering various treadmill training options suited to your needs and capabilities.
The only issue you might have is when this treadmill is folded away, as it's still rather large, meaning that it takes up a lot more space than many treadmills on the market.
Furthermore, it's a more bulky treadmill, which again, might be difficult for some homeowners who want to comfortably store away.
FITNESS AT YOUR FINGERTIPS: The 7'' full-color display features an intelligent color touchscreen with three unique dashboards, and your results are graphically highlighted in the view of your choosing.
BUILT TO LAST: With a robotically-welded, all-steel frame and 3.25 HP continuous-duty motor, the TR4000i is as durable as the open road itself. It requires little assembly and maintenance and can support users up to 350lbs QUIET AND COMFORTABLE: The sturdy 1" deck is designed to simulate a real road-running experience. 8 independent compression shocks reduce noise and absorb foot strike, taking stress off your knees, back and joints
TRAIN SMARTER WITH BLUETOOTH: Built-in Bluetooth speakers make sure you never get bored. Burn more calories while listening to your favorite songs and podcasts. You can also charge your smartphone simultaneously by using the USB charger | LISTEN TO YOUR BODY: The treadmill's heart sensors make it easy for you to check your heart rate and stay in your desired training zone. LifeSpan's exclusive Intelli-Step technology works like a pedometer, automatically tracking your every step
SAFETY FIRST: The patented Intelli-Guard feature ensures safety by automatically pausing the belt 20 seconds after you step off the treadmill deck | EFFORTLESS STORAGE: The folding mechanism and 4-wheel design makes it easy to move and store this treadmill. Folded size is 40.5" L x 34.5" W x 65.5" H
Suiki Electric Folding Treadmill
Pros
Foldable
Larger belt
Powerful engine
Includes electric massage option
Cons
This option is an interesting one, as on paper it ticks a lot of boxes for avid fitness fans. Even more so because this advanced model treadmill offers additional features, such as a massager and situps aid.
Nevertheless, while this foldable treadmill has many positives, the biggest issues buyers will encounter is a lack of information regarding the treadmill features.
For example, the brand doesn't state if it is bluetooth compatible, nor do they explain the fitness options pre-programmed into the console.
What is more, due to its large, bulkier size, there is the issue of storage once again; although the treadmill can be folded away, it's still a larger piece of fitness equipment.
NordicTrack T Series Treadmills
Pros
Comes with one year fitness membership
Sturdy design
Incline options
Wider belt
Cons
Fitness membership issues
No bluetooth connectivity
This NordicTrack treadmill is both one of the most interactive treadmills out there, while also being one of the most problematic.
The issue comes from the fact that the treadmill is designed to be used in partnership with the fitness membership it's sold with, a feature that some won't be interested in.
As a result, this can feel more like attending a gym than a home-friendly workout option, which might be off-putting to some buyers of NordicTrack machines.
Furthermore, despite the treadmill offering such interactive trainer-led workouts, there doesn't seem to be any bluetooth compatibility available.
The features mention an AUX port to connect your devices, but due to most smart devices using USB cables instead, this limits accessibility considerably.
Nonetheless, while there are obviously some treadmill design oversights, the fact that there is a nice wide belt to run/walk upon, as well as plenty of incline options, means that you'll have a lot of variety to choose from compared to other machines.
30-Day iFIT Membership Included; Stream Live & On-Demand Workouts On Your Equipment With Global Workouts & Studio Classes; Elite Trainers Adjust Your Equipment (15 Dollar Value)
10" HD Interactive Touchscreen Display streams on-demand iFit workouts into your home directly on your treadmill; SMART-Response motor for effective running and cardio training at home
0-12% Digital Quick Incline control; 0-12 MPH Digital QuickSpeed control; Your iFit Trainer auto-adjusts your smart treadmill's speed and incline for an optimized workout that meets your goals
Innovative SpaceSaver design with EasyLift Assist means your treadmill folds up after your workout for compact, simple storage; 20" x 60" tread belt with FlexSelect cushioning reduces joint impact
300-pound user capacity; 59.4" H x 35.5" W x 78.9" L
Fasesh Foldable Electric Auto Incline Treadmill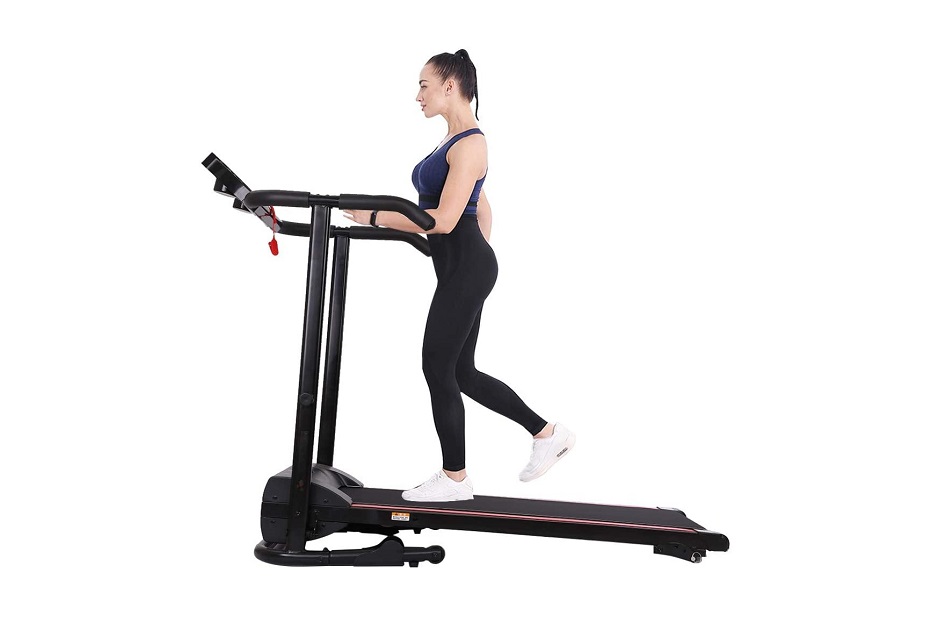 Pros
12 incline settings
Foldable
12 programs
Built-in emergency stop key
Cons
Unclear if bluetooth compatible
Slimmer belt
For those of you who are interested in a home treadmill that comes with incline features, this Fasesh option is a great choice, as it comes with 12 different incline workout options.
What is more, you also have the luxury of being able to follow 12 pre-existing workout programs also built into the console, meaning you can get started as soon as you're set up.
You'll also be able to position your smart device so that you can watch/listen to your shows of choice.
The one issue that this model throws up though, is that the belt is slimmer than others available, which could prove problematic depending on your running gait.
Nevertheless, for the price of this treadmill, there are far more pros than there are cons.
Dynamax 120V RunningPad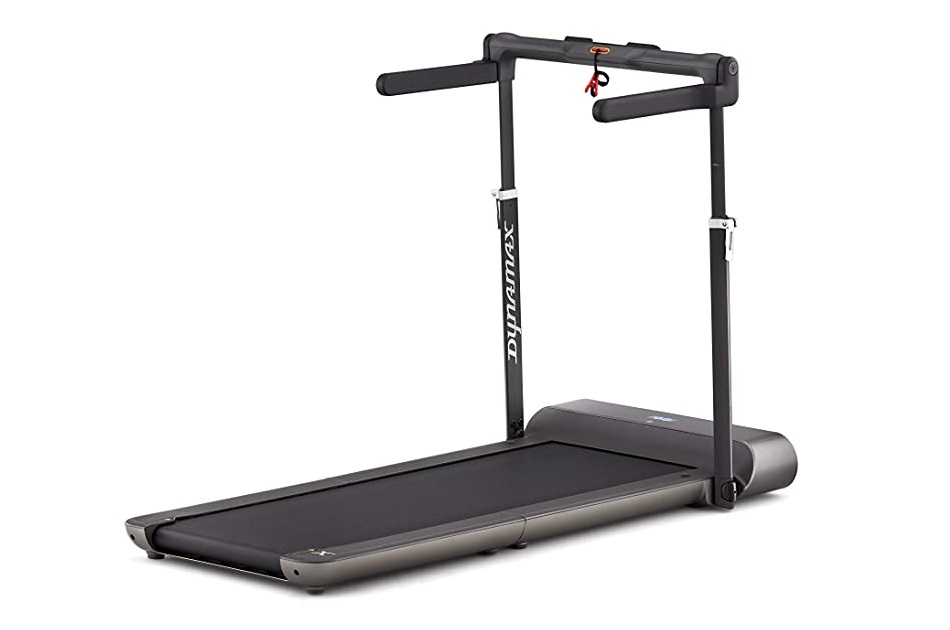 Pros
No assembly
Lightweight design
Foldable
Bluetooth connectivity
Cons
No incline
Simplistic console
Has to be stored flat
Sometimes simplicity is the best option, which is why the Dynamax RunningPad has become such a firm treadmill favorite with home runners.
Despite its minimalist design, this is a powerful machine that can really help you to run those miles in your home gym, without taking up too much space. What is more, when it's not in use you can fold it up and store it away.
What is more, it comes with bluetooth connectivity and a companion treadmill app, meaning you can keep on track of your fitness on your smartphone with ease.
On the other hand, however, the console only has five display functions, which is less than other treadmills out there.
Another important factor to consider before purchasing is that storage needs to be flat and not vertical, which could prove difficult for those limited by space.
Price Category
Then, lastly, you have the expensive price tag of this model, which is just under $600.
FASESH Folding Treadmill 2 in 1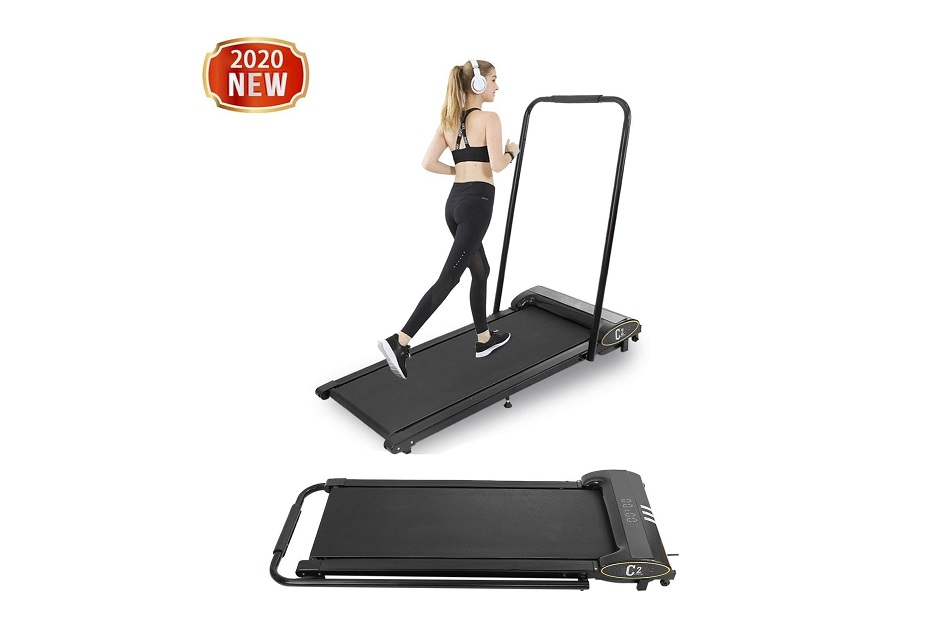 Pros
2 in 1 design
Wide belt
Foldable
Quiet
Cons
No console
No pre-built workout programs
No bluetooth speakers or tablet holder
Basic design
Last on our buyer's guide is the Fasesh 2 in 1 treadmill model, so named because it can be used as a standard treadmill or as an under-desk option.
The fact that you can still keep fit even while sitting at your desk makes this one of the most adaptable folding treadmills on the market.
What is more, due to its minimalist design, you won't have to waste time setting workout programs, moving a bulky treadmill frame around, etc.
On the other hand, however, the fact that the treadmill design is so basic does mean you don't have the interactive features that console treadmills offer.
This is fine if you're a plug music in and go runner, but if you want a screen in front of you, this smart treadmill option won't be the best for you.
Nonetheless, this is a cheap and sturdy budget model of treadmill that will easily slot into most homes; it's quiet, a decent treadmill size, and can be stored away.
FAQs About At Home Treadmills
What is the Best Treadmill Size for Your Home?
The size of the entry-level treadmill that works best for you and your home comes down to a matter of choice.
However, while you have the final say, there are certain specs that are better suited for at-home workouts.
If you want to use your home treadmill for walking only, then you'll need a belt at least 50 inches in length, whereas if you intend to run on it, a 55" or longer will be better suited. If you're a tall runner (over 6 foot), you'll need a belt of 60" or more. Look for a correct weight capacity as well.
Furthermore, for avid runners, a wider treadmill belt will ensure you don't have to change your gait/form while working out.
Lastly, you need to give yourself clearance, e.g. a safe and clear area around your treadmill machine in your home gym, both for your safety and for others. Normally, the average clearance is a recommended 8" or more.
Are Folding Treadmills Good For Your Home?
Unless you have a lot of spare space available to you, a foldable treadmill will always be the better option for your home.
Few people have their own personal gym at home, and more often than not, space is a luxury few of us have in abundance. By opting for a foldable treadmill, you'll be able to store away your best compact treadmill whenever it isn't in use.
That being said, even the best folding treadmill models take up some space, meaning you need to have somewhere to store your machine.
Furthermore, some models need to be stored flat instead of upright, which means you need both types of storage space available.
Longevity-wise, foldable treadmills do have a shorter lifespan than those you find at gyms, however, given the amount of use it'll get, and the location of it, it seems a fair compromise.
Does Your Compact Treadmill Come with Workout Programs?
Before buying a home treadmill, explore the instructions if your future personal trainer comes with any pre-programmed workouts or programs. Those could be especially useful with such a device if you are a beginner treadmill runner.
These programs will automatically adjust the speed and incline range or calories burned. Choose the best smart treadmill that offers you all the features for your speed treadmill workouts, let that be a high-intensity interval training, a marathon training or a quick running.
Can A Treadmill Be Too Loud For An Apartment?
If you live in an apartment, a powerful treadmill might not be the most noise friendly workout option for you to choose.
Although there are quieter treadmill models on the market, the vibrations generated can still reach up to 100 decibels.
Should you be intent on purchasing a new treadmill regardless, you'll need to set up your home so that it minimizes the noise made by even the best treadmills available.
There are plenty of ways to do this, however some solutions will come at an additional cost to you, for example, you can use mats to absorb the treadmill noise.
You should also keep on top of your maintenance, as this will help keep the treadmill well lubricated and less prone to loud vibrations.
Nevertheless, a treadmill is destined to be loud, especially if you're unfortunate enough to live on the floor below a runner using such a personal trainer.
Final Thoughts About the Best Treadmills for Home Use
Maintaining your fitness is a worthy goal, and as running is known for its various health benefits, a home treadmill can be a wise investment at an affordable price.
Even if you don't have much space or a larger budget, there's no end of suitable treadmills on the market, many treadmills that combine both useful features and a reasonable price tag so that there would be no need for running outdoors.
Naturally, with any home treadmill, there are potential cons and setbacks, with the most obvious being a lack of space and/or the amount of noise your machine might make.
If space and sound are two of your main concerns, we advise opting for a quiet home treadmill, maybe a non motorized treadmill, designed to be packed away, such as the JulyFox and Zelus options mentioned above.
Of course, there's many other treadmills out there, expensive treadmills, too, which is why it's always best to research prior to making a purchase.
Regardless of what you choose, a home treadmill is possible for even the smallest of homes.