Treadmills are a popular means of staying fit at home, however, treadmill purchasers can be put off by the expense of running electric treadmills on a regular basis. In those circumstances, manual treadmills are the better choice.
What is a Manual Treadmill?
A manual treadmill is a type of treadmill, where the runner's feet move the treadmill belt. It is non-motorized, and the belt won't move unless the feet drive it. Manual treadmills can be used for running and walking, but their special design requires more energy from the runner than motorized treadmills.
Best Manual Treadmills in [date format='Y']
Best Brands for Manual Treadmill
Some of the best manual treadmill brands in terms of efficiency, quality, and cost-effectiveness include NordicTrack, Woodway, Sunny Health & Fitness, SB Fitness, and TrueForm. With manual treadmills, you have to put in more effort to move the belt as compared to the effort you have to put in with an electric treadmill.
Types of Manual Treadmills
Depending on the design, mechanics, and features, manual treadmills are classified into different types, which include:
Curved Treadmill and Flat
It is a non-motorized and concave designed curved manual treadmill that does not require electricity and pushes the user's body forward to create and maintain momentum to turn the belt. Flat treadmills do not have curved frames.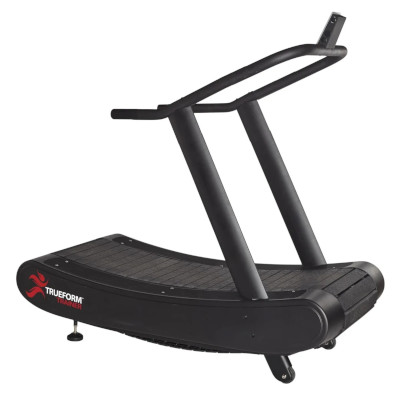 Slat Belt Manual Treadmill vs. Regular Belt
A slat belt treadmill is designed to absorb shocks better, which is not the case with regular belts. Because of the advanced features and design, slat belt treadmills are expensive, and regular belt treadmills are pocket-friendly.
Hybrid Manual Treadmill
A hybrid treadmill has a motor, but it can be foot-powered as well. By disengaging the treadmill belt from the motor, it can be turned into a manual treadmill.
How to Use a Manual Treadmill Properly?
Manual, foot-powered, or self-powered treadmills can be your cheapest route to fitness if used properly. To use one properly, wear a comfortable outfit, adjust the belt and incline of your treadmill according to your needs, grip the handles, step on the belt, gradually change your pace, and meet your fitness goals.
Step 1
Always choose appropriate clothing; wear comfortable shorts or pants. Your feet, in particular, will undergo a lot of stress and for that, you will need a good pair of trainers.
Step 2
Go through the manufacturer's guidelines and set the incline as mentioned. Manual treadmills rely on the user for power, so it is recommended to adjust the belt of the treadmill according to your weight.
Step 3
It is better if you start slowly. All you have to do is step forward and start pushing the belt with your legs. The interaction between the energy storage system of the treadmill and your movement will result in resistance. If you want to speed up or stop the treadmill, you must change the speed gradually.
Step 4
Get a grip on the treadmill handle only when it is starting or stopping. Once you feel like the treadmill has reached the running speed, you can let go of the handle.
Manual Treadmill FAQ
Is a Manual Treadmill Good for Running?
Most people prefer manual treadmills or self-powered treadmills for walking. When used for running or high-intensity interval training, it gets a bit harder to stop. And the short belt of the manual treadmill is not suitable for long strides. If you want a manual treadmill for running, get a curved belt or a high-quality motorized treadmill.
Are Manual Treadmills Good for Walking?
Most manual treadmills feature a short and flat belt, which is ideal for walking. Users can maintain a steady pace when walking, which compliments the construction and design of this type of treadmill. User's feet power the belt, which is an effective workout. Some people also use them for running.
Do Manual Treadmills Burn More Calories?
Users have to run manual treadmills themselves, and non-motorized treadmill running helps burn calories and lose weight. Along with maintaining a healthy diet and following a strict routine, manual treadmills can help people burn more calories. As long as you use the treadmill in the right way, you'll get the same results as a motorized treadmill.
Is a Manual Treadmill Bad for Knees?
Yes, but it solely depends on how you use it. Prolonged use of a manual treadmill, especially with no incline, puts more pressure on your knees, which may damage the knees and knee joint in the long run, like all running. Increase the speed of the treadmill gradually so that your body has time to adjust to it.
Are Manual Treadmills Quiet?
The lack of an electric motor in manual treadmills means they are quiet. However, they do produce a bit of sound. When using it, you can hear the sound of the treadmill belt moving, your steps, and the sound of a resistance mechanism. If it bothers you, you can use earplugs or headphones. However, manual treadmills are not as noisy as electric treadmills.
How Long Do Manual Treadmills Last?
With proper maintenance and care, manual treadmills can last for 10 years. They usually come with a 3-year warranty on the frame and parts, which comes in handy in case of damage. Carefully wax the treadmill belt, clean it thoroughly, follow the guidelines shared by manufacturers, and your treadmill will last for long.
Reviews of the Best Manual Treadmills by Categories
We have made a short list of the best manual treadmills and categorized them according to their characteristics. And now we will discuss the winner of these categories based on our tests.
Best Manual Treadmill for Running
For runners, the best choice of a manual treadmill is the Fitness Reality TR3000 Maximum Weight Capacity. It has a long belt and is well-constructed to carry enough weight. The LCD motor keeps you updated regarding your vitals and progress. Multiple incline positions allow you to adjust the belt to your needs.
Fitness Reality TR300 Maximum Weight Capacity Manual Treadmill
Fitness Reality TR3000 Maximum Weight Capacity Manual Treadmill has a solid frame that can easily accommodate a max user weight capacity of up to 325 pounds. One of the many best features of this treadmill is its three manual incline positions, which are 8, 10, and 13 degrees. The belt of this treadmill can be extended 16 inches in width and 45 inches in length, which is nearly as long and wide as an electric treadmill belt.
The handles of this treadmill are extra-long, giving runners safety and security. This treadmill is quiet because of its magnetic tension resistance. It comes with an LCD monitor that gives you all the stats regarding your heart rate, speed, distance, etc. There is also space for keeping your water bottle.
Moreover, this treadmill comes with heart pulse pods that allow runners to measure their heart rates. The Fitness Reality treadmill is pre-assembled. You do not have to make any effort to assemble it. All you have to do is attach the computer, and you are good to go. It is easily transportable, and it comes with a warranty of three years. Overall, this treadmill is a great pick if you want to lose weight, achieve a healthy lifestyle, and burn extra calories.
Best Manual Treadmills for Walking
For walking, the best manual treadmill is the ProGear 190 Manual Treadmill with 2 Level Inclines and Twin Flywheels. This pre-assembled treadmill has a strong frame, two handles, a digital console, and multiple other features. Its twin flywheels and oversized belt rollers enable consistent and smooth operation.
ProGear 190 Manual Treadmill with 2 Level Inclines and Twin Flywheels
This manual treadmill is great as a workout partner. It has long handles that have foam grips for stability. The front rod contains an LCD monitor that displays distance covered, speed, etc. The batteries are already included, so you don't have to purchase them separately.
The alloy steel frame of this treadmill comes with a powder-coated finish, and the wide rails are perfect for safety. This is sturdy enough to support 230 pounds. Since it is manual, it does not require any electric outlet, and it is maintenance-free.
One of the best things about this treadmill is that it has wheels, which makes it easy for you to move this manual treadmill from one room to another. Moreover, its six and ten-degree incline levels make it perfect for walking.
The belt rollers of this manual treadmill are a bit oversized, which enables a smooth walking experience. If you feel like changing and adjusting the treadmill belt, you must refer to its detailed manual guide. It only comes in black color. Overall, this is a great self-powered manual treadmill with dimensions of 47 × 23 × 51 inches. Its foldable design makes it easy for you to store as well.
Best Cheap Manual Treadmills
The LZG compact foldable manual treadmill is a folding, mobile, self-powered, minimalistic treadmill. This folding treadmill has wheels to move around, and it is quite large, but it is suitable for vertical storage when being folded, and there's an LCD console, too. The treadmill belt is a little shorter than ideal.
LZG Compact Folding Manual Treadmill
The thing that I liked about this budget manual treadmill is that is great for not just runners but those looking for a full-body workout; sporting a 4 in 1 design, it's a versatile, easy to use, self-powered piece of equipment.
The 4 in 1 feature allows you to adapt the manual treadmill to assist with sit-ups, T waist exercises, and a draw rope option. Furthermore, there's also a sole massager, to help ease your feet after a heavy treadmill workout. I found that extremely rewarding.
Given how many great workout features are included in this manual treadmill model, it's not the most streamlined treadmill for running, so it is bulkier in size and a lot less minimalistic as I've found. Nevertheless, while it's larger than some other manual treadmills, it may still be folded away for your convenience.
In aid with easy storage, there are wheels to help move the manual treadmill around your home, meaning you may change the room you workout in. In my opinion, the living room is the most suitable. Moreover, when folded up, this treadmill may be stored vertically, which is preferable for a lot of treadmill buyers.
Please note, however, that the belt of this manual treadmill is shorter in length than such treadmills available, meaning it might not be ideal for avid runners, due to the fact they often need more length to run along.
Best Quality Manual Treadmill
As far as quality is concerned, the 100XL High Capacity Magnetic Resistance Manual Treadmill is a great pick. This high-quality treadmill gives you the benefits of a longer and wider treadmill belt. It comes assembled, and its low incline is perfect for preventing strain on your knees and leg and ankle muscles.
Exerpeutic 100XL High Capacity Magnetic Resistance Manual Treadmill
This manual treadmill can easily carry up to 325 pounds. The extra-long handles of this treadmill come with heart pulse pads. Their 2x length makes walking easier and offers safety in case of loss of balance. At the front, you will find an LCD computer that gives access to data such as distance covered, heart rate, speed, calorie burn, etc. On the left side, there is a storage space for a TV remote as well, in case you like to watch TV while exercising.
One of the many best features of this manual treadmill is that it has three levels or degrees of incline: 8, 10, and 15 degrees. You can adjust it according to your needs. Other than this, this treadmill features 'Pacer Control' 8 levels of magnetic tension, which allows users to experiment with different levels of difficulty. It also helps stabilize the speed of the treadmill if you want to walk hands-free. Moreover, the twin flywheels and extended belt enable a consistent and smooth workout experience.
With multiple features and carbon steel frame construction, the Exerpeutic manual treadmill is the best-quality manual treadmill.
Best Manual Treadmills for Home — Small
For home, the best choice of a manual treadmill is the Stamina Inmotion Manual Treadmill (Pewter Grey, Black). It provides an impactful workout, and it is cost-effective. It features two incline positions and a multi-function monitor. Its lightweight design and built-in wheels make it easy to move.
Stamina Inmotion Manual Treadmill (Pewter Grey, Black)
The Stamina Inmotion Manual Treadmill comes in two colors: gray and black. Its steel frame makes it sturdy and reliable. It features two incline settings: 8 and 10 degrees. You can easily adjust the angle to your liking. The multi-function monitor of this manual treadmill makes it easy to keep track of the speed, calories burned, distance, and total workout time. One of the best features of this treadmill is that it is lightweight, and its built-in wheels make it portable as well.
Normally, the treadmill belt is adjusted by the factory, but if you want any changes, you can do so by following the instructions given in the user manual. The side rails and the front of the treadmill are foam padded for safety. Its surface is textured so that you don't slip while walking or jogging. It only weighs 50 pounds, making it easy to fold and store.
Since it is manual, there is no electric motor that needs maintenance. It can be placed anywhere you like. Another best thing about Stamina Inmotion manual treadmill is that it has a one-year frame warranty and 90-days parts warranty. Overall, this treadmill is a great pick for home workouts.
Best Portable Manual Treadmills – Small, Foldable
The Sunny Health Fitness SF-T1407M manual walking treadmill is a foldable, small, lightweight treadmill, with fixed incline positions, and a battery-powered treadmill console. It is a compact manual treadmill with 220 lbs max weight limit, and an anti-slip feature, an ideal equipment for a home gym.
Sunny Health Fitness SF-T1407M Manual Walking Treadmill
For those who want to get in more miles a day, self-powered manual treadmills are a lightweight option that will easily fit into your home. Or at least this was my experience with the Sunny Health Fitness SF-T1407M.
I liked that the treadmill is small in size. It's easy to move around, easy to assemble, and storable in an upright folded position – such treadmills are ideal for people who are limited in space in their home gym. And, while this is a compact treadmill, quality hasn't been compromised. With this Sunny Health fitness treadmill not only do you get an anti-slip treadmill belt to walk/run on, but it has a load limit up to 200lbs, (which was enough for me).
Furthermore, make sure you don't miss out on the treadmill console to monitor your workout progress; the battery-powered feature of this Sunny Health Fitness treadmill means you may track your walking or jogging workouts, but you may also just as easily leave the batteries out and go completely manual.
The main hurdle some users will face with manual treadmills, and one that I have faced as well, is that the treadmill belt is slender in width, which might not suit some individuals' form/gait. What is more, the Sunny Health manual treadmill is fixed at an incline, meaning you will always experience a more resistant focused intense workout.
What Are The Benefits of Manual Treadmills?
Cost-Effective Workout
When we comment on cost-effectiveness, this isn't just in reference to the cost or price of purchasing the best affordable manual treadmills but also in relation to the money saved from it not being mains powered.
More often than not, such treadmills have an affordable price, given the fact that they come with fewer electronic features. Even if you opt for one of the 4 in 1 treadmill models we listed, these are still cheaper than similar motorized treadmills.
That being said, while cheaper, we still advise researching different manual treadmill models to ensure you purchase the best for your individual needs. Treadmill quality shouldn't ever be compromised on, and so if a manual treadmill is more expensive than another, this doesn't mean it should be discounted.
What is more, if a console is included with your manual treadmill (which is common), it's normally battery-powered and so you can choose whether to use it or not. This means you can remain completely unplugged and manual, and simply hit the ground running, so to speak.
Space Saving
The beauty of manual treadmill space-saving capabilities has been dominant throughout this article, and for good reason — these treadmills are typically smaller than a motorized treadmill or electric treadmills and enable home use.
Of course, this can be a problem for those who take longer strides and need a bigger treadmill belt to run upon. However, as a general rule, manual treadmills prove successful for both walkers and runners alike.
In addition to being space-saving when in use, there's the added benefit of many of these manual treadmills being foldable, and so you can store a manual or magnetic treadmill out of view and move somewhere else when you're not using it. Granted, motorized treadmills offer this too, but they tend to be bulkier in size due to the features they include.
What Are the Disadvantages of Manual Treadmills?
Basic Treadmill Design
Although a lot of us like the minimalist aesthetic and lifestyle, there's no escaping how basic manual treadmills tend to be. Both in looks and features.
This is why many manual treadmills come with small LCD screens, only capable of displaying basic information such as heart rate, speed, etc, and why you simply have a frame and treadmill belt to make use of. Manual treadmills have been stripped back, which some can find difficult to adapt to, especially if you're used to a motorized treadmill.
If you're someone who wants to track workout progress, manual treadmills are limited in doing this, meaning you either need to use a workout app and/or consider a motorized treadmill instead. The reason the manual treadmill console has fewer features is that it lacks the power to run them; this is the compromise when purchasing a manual treadmill instead.
In-keeping with a lack of features, a lot of manual treadmills offer either minimal or no adjustable incline settings. Some will even have a fixed slight incline that can't be changed, like the Sunny Health fitness non-motorized treadmill we mentioned above.
Lower Treadmill Durability
Due to the design features of these treadmills, which are minimal, they also tend to be less durable over a long period of time.
This isn't to say that these less durable treadmills will fall apart after one or two uses or workout sessions, but that they'll have less longevity than a motorized treadmill. Given that there's no need for sturdy extras to help power its workout features, it makes sense that lower-quality materials are used to build a manual treadmill.
Should you be looking to have your treadmill for a number of years without any need to buy another, a motorized treadmill might be better suited to your workout than manual treadmills.
Conclusion — Is a Manual Treadmill Worth It?
Yes, manual treadmills are worth it. If you want to get fit but can't deal with the expense of electric treadmills, you should get your hands on a manual motorless treadmill, which is often referred to as a foot-powered treadmill or self-powered treadmill. They are cost-effective, reliable, and durable.