Keeping your treadmill clean is a very important part of maintaining it. Whether you use your treadmill daily or occasionally, there are some regular cleaning tasks that should be carried out. Cleaning your entire treadmill, including the treadmill belt, helps increase your machine's life and keeps it in the right working condition. Read our guide on how to clean a treadmill on a regular basis.
Unplug the treadmill before cleaning. Vacuum the dust from and around the treadmill and its belt. Wipe down the treadmill belt, don't soak the treadmill, lubricate and adjust it. Dry the treadmill. Installing a treadmill mat helps to keep it clean. Cleaning a treadmill is a periodical task, repeat as necessary.
Necessary Periodical Cleaning Activities
Maintaining and keeping a treadmill clean at home is not very fun, but even if you have the best treadmill present at home, it won't work properly if you do not take care of it, including the treadmill belt.
Mentioned down below is a maintenance schedule and guide on how to clean a treadmill.
Daily Cleaning
This daily cleaning consists of a single step, which is wiping down your sweat from the dashboard. This is an important step because wiping down sweat helps avoid injury to anyone who plans on using the treadmill after you and avoids corrosion.
If you share the treadmill with your partner, then you must be aware of a situation where you have to avoid your partner who is angry at you for not wiping down your germs from the machine. This may appear like a very simple thing to do, but it is one that can easily slip your mind after you are done.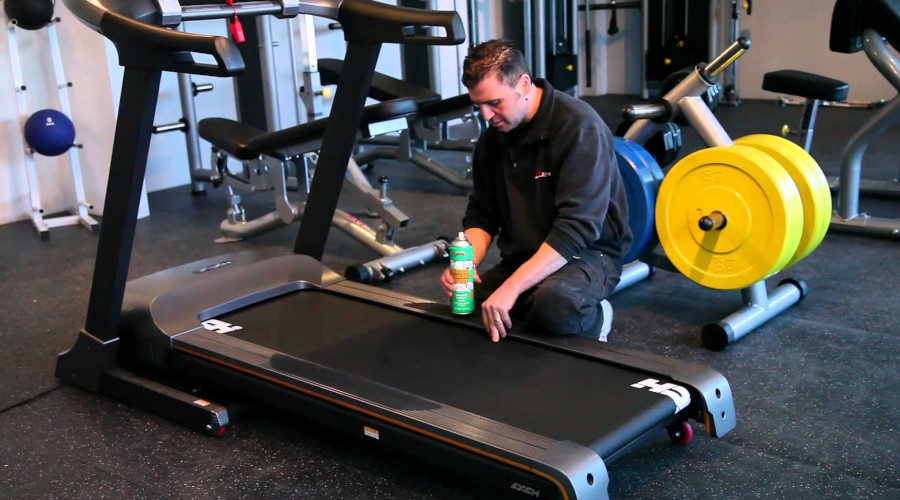 Once the timer ends on the treadmill, you get tired, you are done working out and are looking forward to your post-workout milkshake smoothie, so you forget to wipe down the machine. Your sweat stays in place, dries out, and makes the machine sticky. As a result, it becomes easier to make the next user slip down. In order to avoid this scenario, simply keep a set of paper towels nearby and wipe it down as soon as you are done.
Weekly Cleaning
It is more than simply wiping down with a dry paper towel when it comes down to cleaning weekly. Use a damp cloth with warm water and dip the towel in it. Take this damp towel and provide your treadmill with the full treatment it needs. Ensure that you really get into the nooks and crannies.
Also, make sure that you stick to water as some abrasive cleaners or cleaning solution provide you with more harm than good. Abrasive cleaning materials can damage the lubricant and break down your components, which is not ideal for your treadmill's durability. Instead, you can vacuum under and around the treadmill deck and belt and pick up all kinds of debris and dust that can get under the treadmill belt or the electrical component.
You must also wipe the treadmill belt and push it with your hand in order to rotate it. Also, dry it carefully in the same way. This weekly cleaning is important to do as it ensures that your treadmill lasts for a long time.
Monthly Cleaning
When it comes down to monthly cleaning, you need to be more attentive and careful. First, you must unplug the machine and also remove the motor hood of the treadmill. Ensure that you clean any debris and dirt collected in it using a vacuum attachment or a soft cloth.
How to Clean Treadmill Motor?
This is similar to taking off the motor cover of your desktop computer tower and wiping it out. Since the treadmill is present on the floor, it can accumulate a lot of junk and dusk; cleaning it out makes a huge difference and helps in extending the life of the treadmill motor. This may be long and painful for a busy person, but your motor is most likely to break if not maintained properly, so doing this every few months prolongs its lifespan and is worth the time and trouble.
The next thing you must do is lubricate the walking belt of the treadmill. It is important that you refer to the owner's manual for the right information on what type of lubricant you should use and where you should apply it. Usually, a standard silicone-based lubricant gets your job done. Also, depending on how much your treadmill is used, this can be done every six to eight weeks.
Proper treadmill belt cleaning is essential, but you should also tighten and align the belt if it is misaligned or loose. Now, this step doesn't need to be done monthly and is required only when the belt is slipping from the running deck or when it is off-center. You should check your owner's manual for a clearer grasp on this. Most home treadmills can get the belt tension adjusted by simply centering the bolts on the rear roller using an Allen wrench or a hex.
Always perform your treadmill belt cleaning properly and with care.
How to Vacuum Treadmill Properly?

As mentioned above, vacuuming is very important for your treadmill. It ensures that the dirt and dust left behind due to running shoes are no longer there. Vacuuming ensures that the dirt stays away from the belt as well and stays clean. It also increases the durability of the product, so doing it the right way is very important.
When you are vacuuming, simply raise the treadmill (if you do not own a folding model) to its highest elevation before you shut it off. This will let you vacuum not only the belt of the treadmill but also its underside. You can also use a small attachment in order to reach the nooks and crannies and other awkward spots. If you have a treadmill mat, make sure to vacuum under it too.
However, if you own a more open-style treadmill, then there can be a good chance that the motor and cover will be clogged. Your motor will suck everything inside it, including dirt and dust, and even hair. If you do not clean a treadmill, it will take a toll on the lifespan of your machine.
When cleaning the motor, make sure that you put the vacuum's tip close to the wires and machinery of the motor but do not let it touch them. If the vacuum does not suck up all the dirt, you can use a dry cloth to brush out the dust gently away from the motor. You can also opt for a can of compressed air and blow the dust away.
When to Call A Professional?
Sometimes, even after taking the perfect care for your machine, things can go wrong. If you are unable to fix the new problem on your own, then it might be the time to call a professional.
If you have the confidence and the experience to fix the issue on your own, then you should, but if you do not, then a professional will provide you with the fix you need. A professional can help prolong your fitness equipment's lifespan and ensure that it goes back to its running condition.
A professional will be able to spot a problem that you won't, which will ensure that the fitness equipment is fixed perfectly before you use it again. Ensure that you keep an eye on the machine and call a professional when needed.
Summary
To clean a treadmill is not a hard thing to do; it is slightly time-consuming but not impossible. It is important that you carry out vacuuming and cleaning daily to weekly and then to monthly when you invest in a new treadmill. This not only helps in increasing the lifespan of the product but also reduces costly repairs and replacements.
Treadmills are expensive to buy, and your workouts can put pressure on the machine's components, which reduces its working ability. For this reason, cleaning your treadmill is essential. Some of the machine parts need to be cleaned daily, whereas some need to be cleaned weekly, and then others can be cleaned monthly.