Treadmills can take up a fair amount of space in your home. If you wish to place your treadmill out of the way, preferably away from your bedroom and living room, a basement or garage is a good alternative. However, you need to take a few things into consideration.
Let's take a look at what you have to pay attention to.
Where to Store A Treadmill: in a Basement or Garage?
Due to adequate ventilation, the garage is a better place to store the treadmill. Compared to a basement, the air and climate are better. Often, the basement ceiling is too low and can cause a hindrance while exercising on a treadmill. There's also a higher chance of mold growth in basements due to poor ventilation.
Can I Store My Treadmill in the Garage?
Yes, you can store your treadmill inside a garage. However, some practical precautions are necessary to avoid damaging your treadmill. You need to take into consideration the space, temperature, and the way you go about storing your treadmill inside the garage.
How to Keep a Treadmill Warm in the Garage?
The cold can damage your treadmill's mechanical and electrical components. It can cause the belt to harden and crack and cease the working of inline functions. Keeping the climate in control can prevent it from damaging your treadmill. To keep the garage warm, you can insulate the garage walls.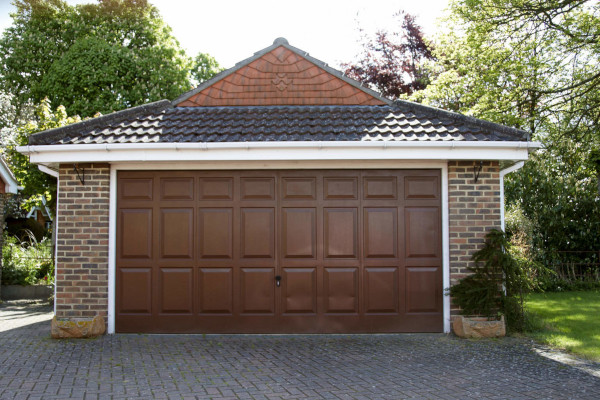 How to Keep a Treadmill Clean in the Garage?
If you keep your treadmill inside a garage, it is necessary to keep your garage clean. Excessive accumulation of dust, dirt, and debris can get into the grooves of your treadmill and wear the motor and belt. You can place a mat under the treadmill to avoid direct contact with a dirty floor. Placing a cover on the treadmill can also prevent dust from accumulating on its surface. Ensure climate control and avoid temperature swings in your garage.
What Do You Have to Pay Attention to If You Store a Treadmill in a Basement?
Storing your treadmill in your basement can get tricky. If you decide to place it there, make sure it ticks the following checklist:
Air Quality in the Basement
Intense exercising can make you breathe heavily. The quality of air in the basement is quite low. If you train there for prolonged periods, breathing in poor air can be harmful to your health. Moreover, some people get allergic reactions due to dust and molds in the basement.
If You 'Hide' the Treadmill in a Garage or Basement, You Never Use It
It is a psychological fact that things that remain out of sight eventually slip out of mind. If you decide to disguise your treadmill in some corner of the house away from eyesight, you may find it difficult to keep up with your routine exercises. It is better to place your treadmill at a place where you see it often. This way, you won't neglect exercising.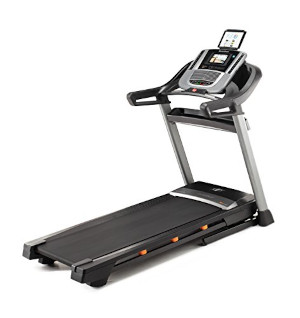 Mold in the Basement
A basement is a place where mold develops frequently. It can damage your treadmill's mechanical and electrical components. Moreover, it is harmful to your lungs, especially during intense exercises when you breathe heavily.
Temperature
A basement is naturally cooler. Due to cold temperatures, the electronic components of your treadmill can freeze and cease to work. The cold air also hardens the belt, leading it to crack eventually. Conversely, hot temperature and humidity promote the growth of pests and mold that is also harmful to your health.
Dirt and Dust
Debris and dust particles in the basement can get into the grooves of your treadmill. They may damage the motor and other moving parts.
View
The view of a basement is not a very pleasant sight, especially to a runner who needs the motivation to push harder. A basement is filled with old shelves and is often a junkyard of the house.
How to Get a Treadmill Into/Out of Basement?
Every treadmill comes with a user guide. Reading about its weight, wheels, foldability, and assembling parts can help with moving instructions. Remember to unplug the treadmill and remove the safety key before moving. You can also take the help of a furniture dolly if needed. If the treadmill is neither foldable nor can be disassembled, removing a door may be necessary to pass the treadmill through. If necessary, you can hire a moving company to help.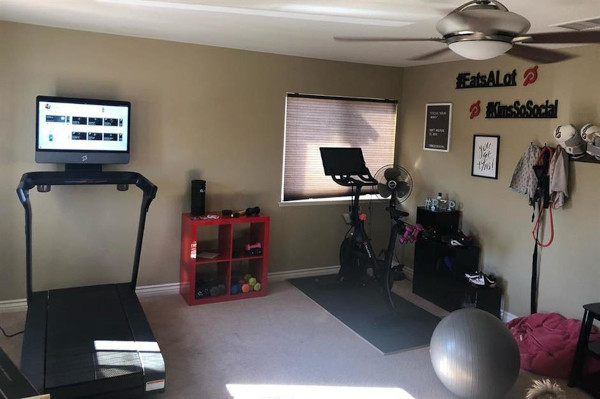 Best Treadmill for Basement
If you've decided to store the treadmill inside your basement, make sure to measure the height of your ceiling. If it is at least 8 feet tall, you can train on a treadmill in your basement. A popular choice for a treadmill that you place in the basement is the NORDICTRACK T 6.5 SERIES.
It measures 67.5 x 36 x 73 inches, so it's ideal for a basement. It also offers 10-degree inclination and up to 10 MPH speed. You can easily track your stats since it is compatible with iFit and can stream workouts directly on its HD touchscreen.
Best Low-Profile Treadmill for Basement
A budget-friendly option for a basement treadmill is the Sunny Health & Fitness Slim Folding Treadmill. It includes trekking handlebars with convenient controls to let you change speeds on the fly. The treadmill is foldable and contains wheels for easy transportation. It has an automatic power-saving mode, so it conserves energy when not in use. You can also operate it via a remote controller.