In this post, I'll be sharing with you how I was able to accomplish the DriTri Challenge by Orangetheory Fitness in under 40:00 mins. 
I was able to jump from a 40:45 minute time in March 2022 to a new PR of 36:27 minutes in September 2022. 
That's more than a 4-minute jump within 6 months!
I was so excited to make such a big leap and hit my new goal, that I wanted to share my experience and the preparation that supported me.
So, let's get right into it!
What were the biggest differences between my last Dri Tri and this Dri Tri?
While in the first Dri Tri, where I got a 40:45, my only goal was to go as fast as I can and hope for the best.
There were no clear intentions besides hope.
Unfortunately, that strategy of hope only helps you to an extent, but will not unlock your full potential.
Realizing this, I decided to change my approach from hope to 100% intention.
I was intentional about everything.
Intentional about the goal, the mindset, the strategy, and the preparation.
From what I was thinking to what I was drinking, and even what I was wearing.
This new approach gave me the confidence I needed to thrive and I surpassed my goal of 36:55 minutes to ultimately get a 36:27.
How? You may ask…
It was 4 things:
The Goal
The Strategy
The Preparation
The Mindset

1. The Goal for Dri Tri
Of course, the first goal I set after my last Dri Tri was to beat my 40:45 time and shoot for a Sub 40:00.
Me being an extremely competitive guy, I knew that I was capable of much more…
So when I heard someone at my OrangeTheory location did a 38:00, I knew I needed to beat that time.
My new goal became a sub 38:00!
With this goal in mind, I started to crunch down the numbers and realized:
Me being an extremely competitive guy, I knew that I was capable of much more…
I started to think what would be something that would really push my limits, yet was attainable at my current fitness level and I won't die trying lol
After some thought, I finally landed on 36:55…
Why 36:55? Because it's better than 37:00!
Anyways… 
Once I got SUPER CLEAR on my goal. 
I planted the seed in my mind.
Once I made my commitment, I knew I had to make it happen.
Now, this seed that I've planted will start to grow and help me expand and clarify my strategy, my preparation, and my mindset accordingly.
We are extremely adaptable beings, and when we set goals outside our comfort zone, our mind and body will start to adapt to whatever we need to do to make it happen.
So don't be afraid to set big and scary goals!

2. The Strategy for Dri Tri
For me to create the right strategy for myself, I had to understand what I needed to do first.
Then, look at what I was capable of doing with those exercises from my past challenges and regular workouts.
Dri Tri is a combination of:
A 2000 Meter Row

300 Reps on the Floor (6 Body Weight Exercises)

A 5k (3.1 miles) on the Treadmill
The objective is to get through all these exercises as fast as possible, while pacing myself so I don't burn out, throw up or give up. Or even get injured in any way.
So, once I've decided I wanted to do it within 36:55 minutes, I started to break up the times for each exercise for it to add up to that final number, including rest times in between each transition.
I started to set Micro Goals and broke them down into the following:
2000 Meter Row
Goal: 7:00 Minutes
My fastest PR on the 2000 Meter row was 6:30 minutes, so I knew a good goal for me would be 7:00 minutes. It didn't require my all-out effort, but it was still challenging.
With that goal in mind, I needed to row at a pace of 1:45 minutes / 500 meters.
First Rest: 30 seconds
300 Reps
Goal: 9:00 Minutes
The thing about the 300 reps is even though I knew the 6 exercises, they don't tell you the breakdown of how many reps you will do for each exercise until the day of Dri Tri, and it changes every time.
So, I just used the numbers I found online and used it for breaking down the numbers.
I started to think about, what is the fastest time I can do each exercise to hit my goal of 9:00 Minutes.
* 40 push-ups – 1 min 
(Tip: 90 degree, go as fast as possible because burning out the arms won't affect the run)
* 40 bench tap squats – 1 min 
(Tip: Relax and fall down into the squat so it's less resistance for the legs on the way down)
* 60 bench hop overs – 2 mins 
(Tip: keep the feet lower and closer to the bench)
* 80 step ups – 2 mins 
(Tip: Keep switching back and forth between legs)
* 40 burpees – 2 mins 
(Tip: Wider legs so it takes less energy to go up and down, no push-up or jump)
* 40 plank jacks – 1 min
(Tip: Just knock them out)
Second Rest: 30 seconds
5k on the Tread
Goal: 19:55 minutes
This required a 9.3-9.4 mph Avg for the entire run.
7 mph – 1 min
8 mph – 1 min
9 mph – 1 min
9.5 mph – 10 min (go down by 0.1 if Im getting tired)
10 mph – 5 mins (go down by 0.1 if Im getting tired)
11-12 mph – last 0.1 mile
Slow build-up so I can catch my breath from the 300 reps, and then get locked into a consistent pace which makes it easier for endurance.
All those numbers added up to the overall goal of 36:55 minutes and that became my strategy for Dri Tri.
Now, that I was clear on my goal and strategy, I can focus on my preparation.
3. The Preparation for Dri Tri
The Month of Dri Tri
I personally love doing the treadmill first for all my workout sessions, it's when I have the most energy and I can hit those peak speeds, averages, and distances.
BUT, I knew to prepare for Dri Tri, I needed to adjust my body's ability to run and recover faster when I'm already tired from rowing and the floor.
So, in the month leading up to Dri Tri, I would choose the rower first every time.
2 Days Before
I made sure to get plenty of rest at least 7-8 hours, and I did not workout at all.
Giving my body time to rest and recover so I'm fresh for the day of Dri Tri.
Also, eating plenty of protein to support the recovery.
The Night Before
I had a higher carb dinner, and fewer fats since my main source of energy for this endurance-style challenge will be carbs.
Magnesium before bed for better sleep.
Also, I made sure I can get 7-8 hours of sleep and with only 3-4 hours before the race since I'm the freshest during the morning time.
The Day of Dri Tri
Wake Up Time: Approximately 8:00am, giving me about 4 hours before Dri Tri starts to eat and start my hydration.
For Breakfast, I focused on higher carbs so I went for:
Small Bacon, Egg and Cheese on a Bun

Oatmeal with Berries / Banana / Apple or Yogurt

Half of a Banana Bread Slice
Then, I started slowly hydrating with 1.5 Liters of water and Re-Lyte Electrolyte Mix, 2-3 hours before the start of Dri Tri.
I Drank the Re-Lyte Pre-Workout with Creatine Monohydrates, 30 mins before the start.
Also, I decided that I will not drink any water during the Dri Tri for 2 key reasons:
I didn't want to get cramps and stomach issues

I knew that not drinking water can potentially save me 1-2 mins of time
I brought a water bottle with me, just in case.
4. The Mindset for Dri Tri
I recently started doing Spartan Races and respect the Spartans and their mindset, courage and resilience. 
I adopted that same mindset here for Dri Tri.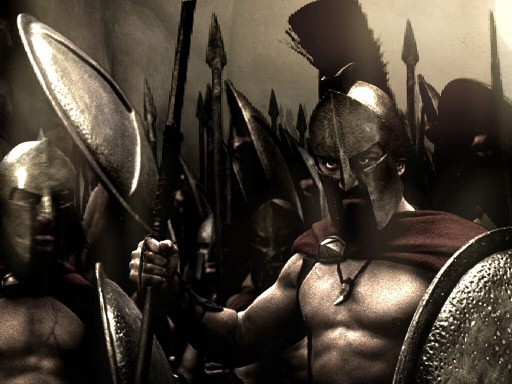 Also, me being an extremely competitive guy, I knew that the mindset was to be #1 in my studio…
The mindset to WIN. 
To Win in the charts within my studio. 
To Win by hitting or surpassing my goal. 
To Win by completing another Dri Tri. 
To Win by challenging myself and doing what is uncomfortable to do.

The mindset to be the BEST. 
To Be the Best version of myself and push myself to a NEW LEVEL.
To Be the Best in the studio and compared to other studios too.
To Be the Best in all 3 parts of Dri Tri.
The mindset to be at WAR.
To Be at War with my limiting beliefs and break through them.
To Be at War with my comfort zone and fall in love with pain, challenge, and discomfort.
To Be at War for something beyond myself. For my country, for my family, for my tribe, and for my friends and followers.
To Be at War for others who are not capable and to give inspiration, and build strength to protect and provide.
These core mindsets were the foundation for my success and set the tone for me to conquer Dri Tri and achieve my goal.
The Final Results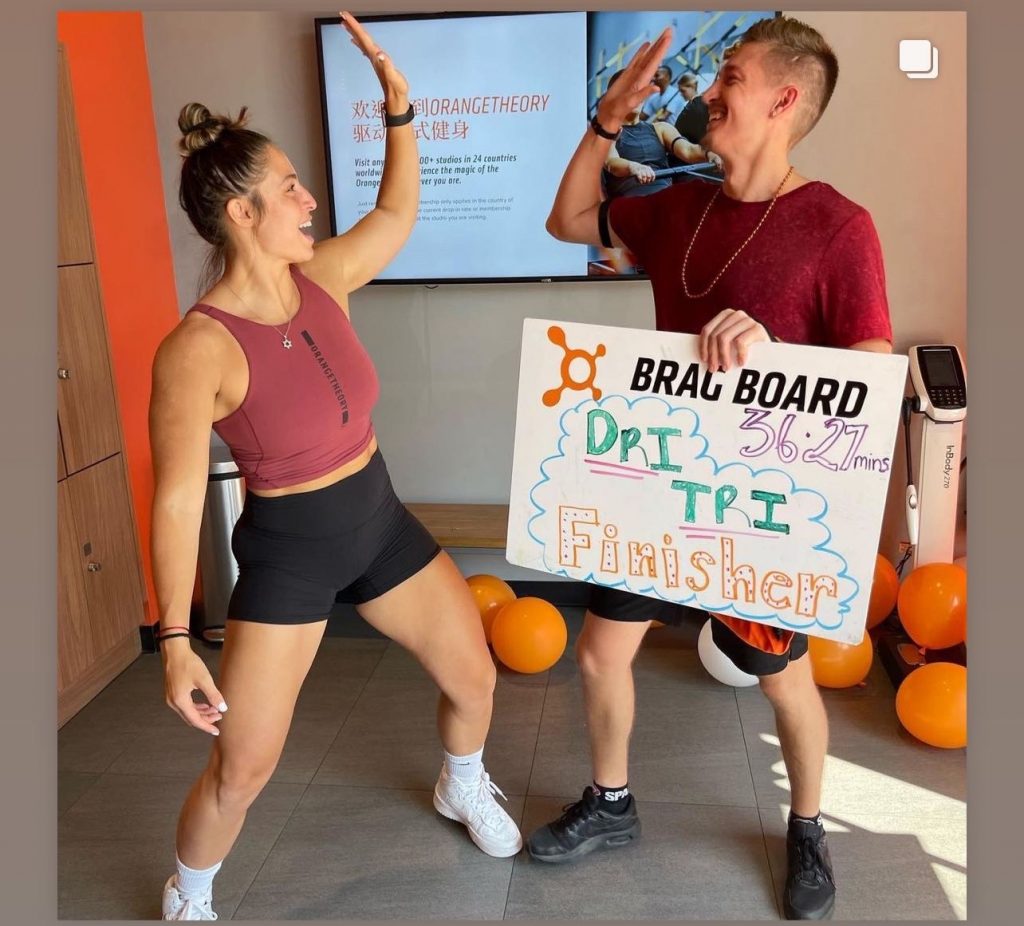 I ended up completing Dri Tri in 36:27 minutes and I was so happy!
P.S. You can follow me here on Instagram.

Final Numbers:
2000 Meter Row:

6:36 minutes

300 Reps:

8:29 minutes

5k Treadmill:

21:22 minutes
To close this post out, I wanted to share a few things about what worked, what didn't work, and how I will improve next time.
What Worked:
I held a steady pace the entire time with minimal rest

I ended up doing a 6:36 on the rower, which was close to my PR for the 2000m row but I felt good about it and kept a strong and steady pace by kicking off harder with my legs and slowing down on the way forward. Giving the rower time to accumulate Meters on its own and giving me that moment to recover.

I did 1 exercise at a time fully – I didn't break it up into 2 rounds. This allowed for less wasted time on transitions and more focus to get through each exercise.

I found a steady pace in my run around 9 mph and kept increasing by 0.1 every minute or when I felt I was ready to increase.
What Didn't Work:
I ended up eating a bit too much and too close to the time I started, which messed me up at the beginning of the treadmill where I wanted to throw up multiple times and I felt the food coming up.

I definitely could have worked on my body weight exercises more so that I can go through all the reps in one go.
How I will improve next time:
Eat a smaller amount 3-4 hours before the start and trust it will be enough

Increase my speed on the rower and get comfortable with a faster pace

Focus my training on being able to do all the movement's reps all in one go – so training at much higher reps.

I need to get comfortable with getting into a 9 mph speed faster
That's all for now.
Make sure to comment below on what resonated with you the most and how you're going to crush your Dri Tri next!