A tablet holder makes for the most useful accessory for an activity bicycle. It keeps things interesting by not letting exercising come in between the things you would like to do in your spare time. They need to be adjustable and robust to function for long-term purposes. To help you get the tablet holder for treadmills best suited to your needs and budget, we have laid out a guide below.
A carefully considered tablet holder never compromises on quality and essential features. From our list, the most capable one is the Tackform Universal Tablet Holder. It has compatibility with multiple indoor exercise equipment and has a pretty flexible grip size, which enables its fixture onto larger machines as well.
Falling within an affordable budget, it also has good materiality, which promises durability.
Best Tablet Holders for Treadmills
Multiple best selling brands available globally have come up with unique designs for treadmill tablet holders. Each has its own set of pros and cons and features that set them apart from one another. To help you make an informed purchasing decision, we have highlighted important aspects of some of the best tablet holders for treadmills below.
Tackform Universal Tablet Holder
Pros
Can easily fit a lot of gadgets
The installation process is user-friendly and quick
The access to gadget's ports is easy and direct
Made with durable materials
Viewing angles can be adjusted by the user according to viewing preferences
Cons
Moves easily when used with an Apple iPad Pro or iPad Mini
Features
This Tackform Solutions Table Mount Holder features size bars catering to tablets measuring between 15mm and 50mm, which is very flexible. It is compatible with multiple hardware systems and can be installed simply by zipping and tying on the handlebar.
Having the ability to cater to various contraptions in length and width both, it also has easy access to all the port points, so any cords don't end up distracting the user while they are working out. Because of its easy portability, users can easily keep it for use at their gym and in various other locations apart from their personal exercise space.
Since continuous running on a treadmill can lead to certain movements that might put your tablet at the risk of falling, the Tackform tablet holder tightly secures the device in place and keeps it from getting damaged. Its layout is also pretty unique; it enables a good view of the screen so the user can use it as part of the treadmill.
The mount body is made out of car level ABS plastic, which makes it super tough against incidents. With its elastic grip and solidity, it can remain intact during a high charged workout session. It is one of the most flexible tablet stand options, having the ability to rotate by a complete 360 degrees. The brand also promises quality by offering a 100% lifetime guarantee so you can rely on it even for repairs and any issues you may face regarding the connectivity.
Jubor Bike Tablet Holder, Portable Bicycle Car Phone Tablet Mount
Pros
Features two adjustable sizes for small and big devices
The tablet mount is easy to install
Offers high compatibility for various spin bikes, stationary bike, etc
Non-slip feet allow the Apple iPad to be in place
Easy to make room for Tablets and E-reader
Cons
The strap used to tie up the tablet mount on the bike is not sturdy enough
Locates the device close to the zone where sweat might fall off the user
Features
Superior in functionality than most models, the Jubor tablet holder also comes at a great value for money. It has a lightweight yet sturdy body that the user can mount on their bike handlebar mount easily. It can cater to a 4.7-inch to a 12.9-inch screen. Users are at liberty to listen to audio, read, and even make calls while working out.
The tablet holder can be mounted on various places such as the handlebars, car seat headrest, mic-stand, and even on shopping carts, bicycles, or wheelchairs, exercise bikes. It comes with 360° rotation ability, and users can adjust the viewing angle to their exact preference. Its unlimited adjustability is perhaps what makes it so unique.
Tablets on this holder can be rotated from portrait to landscape mode and also adjust the content on display accordingly. It is shake-resistant, too, so you will not have to worry about the usage quality. For initial use, it sets up really quickly and comes with all the essentials for easy connectivity with other devices. The handlebars measuring 1.5 inches in diameter are a great fit for most gym equipment. The installation is hassle-free, and all parts can be set up right away without the need of an additional toolkit or an overly complicated user manual.
2 IN 1 UNIVERSAL FUNCTION--Jubor bike mount for indoor cycling is a light, strong bike mount that fits a 4.7-12.9" screen cellphones and tablets. A hands-free helper especially when you are exercising, you can mount it on the spin bike/exercise bike/stationary bicycle/indoor cycling device/golf cart/stroller, also use it as a tablet holder for a car seat headrest, microphone music stand, bicycle, or wheelchair.
EASY TO SET UP-This tablet holder for exercise bike comes with everything you need to quickly and easily clamp onto any tubular pole ( maximum 1.5") on all kinds of gym equipment, and you can detach it within a few seconds. Once clamped, this sturdy bike iPad mount keeps your device securely on the handlebar and ensures a smooth exercise experience for you.
360 DEGREE ROTATION FOR VIEWING-This bike tablet holder offers nearly infinite angle adjustment and the ability to rotate the iPad from portrait to landscape modes with 360 degrees, protecting your eyes and neck by keeping your tablet at a comfortable viewing angle. You won't have to bend your neck down all the time when exercising.
DURABLE AND SECURITY-Jubor holder for spin bikes built with lightweight, durable automotive grade ABS plastic, the flexible joint ball design allows you to adjust the tablets/phones to any angle you like effortlessly. DURABLE AND SECURITY-Jubor mount for spin bikes built with lightweight, durable automotive grade ABS plastic, the flexible joint ball design allows you to adjust the tablets/phones to any angle you like effortlessly.
FITS ALL TABLET-Tablet holder for treadmill exercise bike tripods fits all large tablets. Suitable for 2022 iPad Pro 9.7 / 10.5 / 11 / 12.9, iPad Air 2, Air 3, Air 4, iPad Mini 1/ 2 / 3 / 4 / 5, iPhone 13, 13 Pro, 13 Pro Max, iPhone SE, iPhone 12, 12 Pro, 12 Pro Max, iPhone 11, XS, XS Max, XR, X, 8 Plus, 8, 7, 7 Plus, 6 Plus, 6, Galaxy Tab/ Galaxy Note/ Galaxy S/ Samsung and more cell phones or devices
Soucor Bike Tablet Holder, Portable Bicycle Car Phone Tablet
Pros
Poses a very flexible framework to handle during a workout
Users get a secure rubber grip material to avoid any unforeseen incidents
The viewing angle is easily adjustable
Designed to be wobble-free during a rigorous workout
Offered at a great value for money
Cons
Some users have reported it to be a bit too tight to unlock easily
Features
Soucor has been known for its sturdy products, and this one does not disappoint in terms of durability and security, either. This tablet holder features a separate arm that can reach 4.5 to 8.5 inches, offering great flexibility to the user in terms of use. It can also very easily hold gadgets with 3.5 to 12 inch screen sizes such as iPhones, Galaxy Tabs, Apple iPad products, etc. It has an adaptable model for most treadmills and can fit anywhere, which means it allows easy portability. It makes for a perfect fit for all sorts of people.
Since liquids are commonly found in workout places, this product features a spill-proof body to ensure a longer lifespan in case of any accidents. For added user comfort, it can be easily and quickly linked to or detached from the bicycle handlebar. Its material has a great role to play in it; the elastic cushioned lash allows secure clutching of 1 to 2-inch measurement poles.
Its usage does not require any additional components; therefore, the user also gets the benefit of carrying it around as they see fit. It has the 360-degree rotation feature, which allows for the screen to be viewed from multiple directions as per the need of the user. It also has a locking wheel that secures it tightly in place.
【Multifunctional Tablet Stand/Truck Action Camera Mount】Heavy duty drill base mount car tablet holder with ball and socket joints at each end allowing a full range of motion. The arm allows quick adjustment using a simple thumbscrew, tablet mount designed to install directly on a table, cart, desk, in a vehicle, or on any flat surface and provides a rock solid, vibration free hold.
【INSTALLATION】This car tablet holder adopt a new design, tablet holder base has 2 holes for semi-permanent installation with screws (we provide4 screws) suitable for any car. Important: Use caution and consult a mobile install professional to avoid drilling into any highly sensitive components.
【EASY TO OPERATE】This tablet car mount can rotates 360 degrees, sturdy arm can be adjusted to multiple angles to meet different needs. When you driving, won't obstruct your sight. Whether you are navigating, listening to music or operating the phone , it is very convenient, it can ensure the driver's operation fast and convenient. It is perfectly possible to ensure the safe driving of the driver.
【All-round compatibility】Tablet holder for car fits all 4.7"cell phone-13"Tablets, compatible Samsung Galaxy Tab 4 3/ iPad Mini/iPad Air 2 /iPad Air/iPad 4/iPad 3/ iPad 2 iPad Pro /cell phone /Indoor Cycling Exercise Bikegreat for business or personal use.
【Three uses】Rotating the flat clamp will see 1/4 threaded hole, also fit for Eufy Cam, Roelink Argus, Arlo Camera and other cameras with standard 1/4 threaded hole. action camera gopro base—Wide Compatibility Action Camera (GoPro), Mevo Start, GoPro Hero9, Hero8, Hero7, Hero6, Hero5, Hero4, Session, Action Camera Accessory Kit and action cameras 4k such as One X2 Camera, Lens Kit, Waterproof Housing Case, Osmo Action,DJI,AKASO,Dragon Touch,Vemont,Crosstour etc.
【QUALITY ASSURANCE】Use nylon reinforced fiber material Tablet mount for car are reliability tested to ensure the product will withstand conditions such as vibration, temperature, humidity, extreme heat and extreme cold. Whenever there is any quality problem you meet from our product, we will take responsibility and solve it to your satisfaction immediately.
Moutik Adjustable Bike Tablet Stand Holder
Pros
Can work efficiently as a gadget and book holder, reading rack too
Falls under the more affordable options
Offered in different colors to choose from
Proved to be a good fit for tablets of various shapes and sizes
Has a sturdy structure, and a secure grip
Cons
Body design can take up some space of the tablet's bottom bezel
Features
Available in various hues to make workout all the more exciting, Moutik adjustable bike tablet stand holder adds character and energy to the whole setup. It is a great choice to make if you have a limited budget but want to make the best out of your workout.
Embodying flexible features in its consistently designed body structure, it does not fail to amuse. The best aspect of this tablet holder is its multitasking ability; it lets you work and exercise together. This is crucial in today's time when work hours are taking over personal life, thus making it increasingly difficult to keep fit. This feature also helps in saving time for the rest of the activities.
This tablet holder is sure to keep the device intact while you work out to your heart's content. It can help you make recordings and even play audio to encourage any activity. It is also super flexible, so you are sure to end up with a good deal at an affordable price point if you go ahead with this tablet holder.
Another great thing about it is its ability to multitask. This means you can use it as a phone, tablet, pad, and a book holder or reading rack at the same time according to your convenience. Users can also determine its tilt angle and rotation to make it fit their ergonomic preferences, so this one is easy to install.
Multi-Functions & Value: The bike handlebar holder with 360 Rotation angle adjustment capability, The ability to rotate the iPad from portrait to landscape modes, Watch TV shows while riding a bike / treadmill or any gym training equipment. Without shake. Free your hands help you won't have to bend your neck down all the time as you exercise either, it can make you easy to read, watch movies, and even have a call while you are exercising.
Handle Installation System: 2 piece handle cable ropes for adjustment your handlebar pipe, the inside smaller rope fit for Φ0.47"/12mm or smaller, the outside big rope fit for Φ1.5"/38.2mm or smaller, If your handlebar diameter more than 0.47"/12mm, please take out the insaid smaller rope, then you can use the outside big cable rope to install.This design allows you to use it in many places:car seat headrest, mic stand clamp,music stand, shopping cart, bicycle or wheelchair.
Instant Setup & Removal: the cycling bike tablet stand holder comes with everything you need to quick and easy attach your tablets to handlebars 1.5″diameter or smaller on all kinds of gym equipment; Suitable forany tripod or monopod with standard1/4"-20 thread; No more complex installation, just unbox and use right away.
High Quality and Durable: The spin bike tablet holder stand for ipad mount is made of durable automotive grade ABS plastic. The grip and grooves of bike Phone mount allow the clamp to firmly hold onto the bar and remain secure to absorb all shocks as well as avoids phone surface scratches.
Excellent compatibility: the tablet bracket holder for bike fits all large tablets with screen size from 4.7" to 12.9" including iPad Air 2 and iPad Air, iPad 4, 3, and 2, Samsung Galaxy View, Galaxy Note 10.1, Galaxy Note Pro 12.2, Galaxy Tab 4 10.1, Galaxy Tab Pro 10.1, Galaxy Tab Pro 12.2, Galaxy Tab S 10.5, Google Pixel C, Nexus 10, and Nexus 9, and LG G Pad 10.1, iPhone X / XS / XS Max / XR / 8 / 8 Plus 7 / 7 Plus / 6s / 6 / 6 Plus etc.
Lamicall Treadmill Tablet Stand
Pros
Shares compatibility with multiple other gadgets
Tablet's ports are easy to connect to
The mount body is made from high impact resistant, durable material
The design is rotatable by 360 degrees, and the viewing angle can also be adjustable
Can take energetic movements without wobbling
Cons
Apple iPad users may experience a bit of a loose grip
Features
This Lamicall tablet stand caters to a screen size ranging from 7 inches to 18.5 inches. The sidebar tolerance is from 0.6 inches to 2.0 inches. It is specifically designed for use in treadmills to increase their efficiency and includes a zip, which makes tying handlebars easier. Its design also enables better access to the ports so that the user does not need to divert a lot of attention from the workout in order to use it.
The mount is created using high-rating ABS plastic and rubber, which ensures a tight grip on the device for safer use in case of energetic movements on the treadmill. A common yet highly useful feature of 360 rotation adds to the ease of use. It can go along with almost all the types of tablets in the market, so you don't have to worry about its compatibility. The handlebar mount can hold all small and even larger screens very well. It is a treadmill accessory worth getting your hands on.
【 Broad compatibility】 This indoor peloton bike tablet holder compatible with all 4.7 - 12.9 inch cell phones and tablets, such as new 2022/ 2021 iPad Pro 11/ 12.9 inch, iPad 10.9, iPad Air 5, iPad Mini 6/ 5/ 4/ 3, iPad Pro 9.7/ 10.5, 2020 iPad Pro, iPad Air, iPhone 14 Pro Max, iPhone 13, iPhone 13 Pro, iPhone 13 Pro Max, iPhone 12, iPhone 11, Galaxy Tab A8, A7, Galaxy Tab S8, S7, Galaxy Tab E 9.6.
【 Good for Viewing】 Treadmill tablet bracket mount works as a good partner for your tablet on various occasions, like watching fitness instruction video or TV show. Also this indoor bike tablet mount is good for listening music while exercising.
【 Easy to Mount & Position】 The indoor exercise bike tube tablet clamp mount can be mount to your microphone stand, exercise bike, treadmill, stationary bike or other fitness equipment with handlebar for indoor exercising. ❗ Handlebar diameter: ⌀ 0.5 - 1.33" (14 - 34mm)
【 Keep Exercising】 With this treadmill tablet holder that you can learn more fitness tips from the fitness video to make the movement more standardized.
【 New Design】 This indoor exercise bike holder with universal ball design can be rotated 360 degrees to provide you with more comfortable angles. ❗ Not suitable for outdoor riding.
Meinuoke Flexible Tablet Mount and Smartphone Stand Holder
Pros
High compatibility with different devices, tablets, cell phone, Apple iPad pro, etc.
Easy accommodation with various shapes and sizes of hand-bar
The installation process is very simple to get through with, easy to install
Embodies a ball joint that makes the viewing experience bigger
Offers adjustability for compatibility with smaller sized bars
Cons
The ball joint can only be efficient for a few hours
It has a plastic body that does not give it the benefit of long-lasting durability
Features
A unique thing about this tablet holder by Meinuoke is the charge strap-lock that motivates the users to start working out early in the day and listen to music. It has a ball joint to provide flexibility in terms of movement, and its padding is slip-free to avoid any incidents. Featuring unique shock-absorbent rubber padding, it makes for a great accessory for rigorous workout sessions. It is highly compatible with an Apple iPad, and its pole and handlebar can be adjusted with ease.
It is also quite flexible when the strap has to be removed to change the mounting on the handlebar. This best selling tablet holder has proved efficient for most recent buyers for their 7" to 12" screens. These could be devices like the Apple iPad Air or the Lenovo Yoga 8. It can also cater to smartphones very well. Users also get to enjoy and get the most out of their 360 swivel viewing. This also gives them the benefit of flexibility so they can maintain a visual connection with the tablet while carrying out various workout exercises.
FAQs about Tablet Holders for Treadmills
By now, you are probably aware of what to look for in a treadmill and all that the best ones in the market have to offer. If you still have any doubts about their usage, we have answered some frequently asked questions below.
How to Attach a Tablet Holder to Your Treadmill?
Since most mount designs are made to fit in any type of treadmill, the installation process is quick and easy. The first step is to simply zip and then locate the handlebar to tie it up onto it. And voila! Your stand is now successfully attached to your treadmill.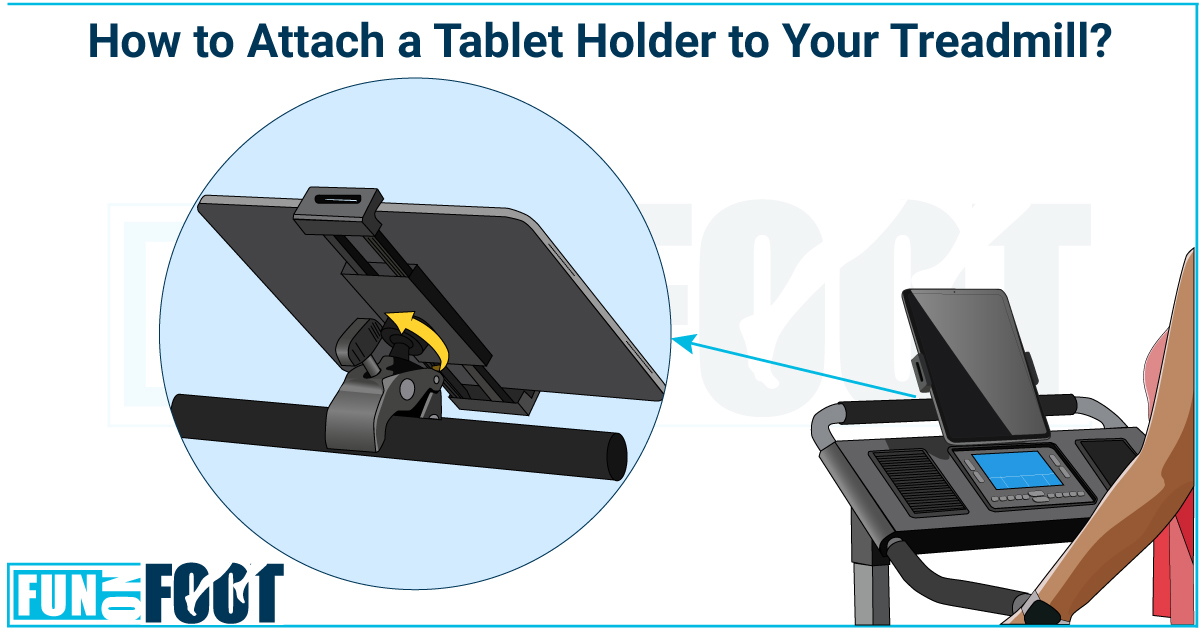 To start using your mount on it, all you need to do is glide your device down in the universal frame. Usually, good tablet holder designs are made to cater to tablets with 7 to 18.4-inch screens or width of 6.25 to 10.5 inches. They also don't hinder access to the ports or buttons.
Is it Safe to Use a Tablet During Your Treadmill Workout?
Usually, people like to take their tablets to their workout place because they have personalized data they can choose from while working out. When it comes to the matter of safety of usage of tablets during a treadmill workout, it is completely safe to do so. Most tablet mounts have sturdily built fabric that does not allow any slippage and easy access to ports and buttons so the user cannot fall into any unforeseen incidents when training on a treadmill.
Conclusion
Good tablet holders are made using durable materials and can keep your tablets safe. Investing in a good one that has adjustable mechanisms can give you a lot of freedom and make workout fun for you (for example by safely watching workout videos or using it as a reading rack). Moreover, they are quick and easy to install and adjust with some mount models offering portability.
The tablet holders mentioned above are the best in their range of features. Since the invention of tablet holders came out of need, there are multiple options available in the market, and each has its own use. For a best selling tablet holder for treadmills, users should ensure if it has the essential features laid out throughout the course of the review above.