Treadmills are the most common type of exercise equipment to have at home or at the gym, as people don't have time to go for a run in the open. As convenient as it gets, exercising on a treadmill can be risky due to the high speeds it is capable of working on. In this article, we'll be explaining what a treadmill safety key and how to use it.
A treadmill safety key is a key attached to the front panel of a treadmill through a string at one end and connected to the user on the other end. Its purpose is to provide the user with an emergency stop feature as the treadmill immediately stops once the key is out of its place.
Best Treadmill Safety Keys
After having a detailed discussion about treadmill products and what makes one the best, now we will be moving on to the top treadmill keys available in the market. We will be talking about the top features of these units and discuss what makes them the best.
Treadmill Rescue Safety Key
Features
Coming towards the first product in our list, we have a safety key manufactured by Treadmill Rescue. It has a universal round shape, which has been designed to be used with most treadmills around the world. On the other end, it has a robust clip to be attached to the clothing of the user. The design has been kept fairly simple but handy, so users can fully utilize it.
Moreover, this safety key from Treadmill Rescue is compatible with all the top brands like Weider, Lifestyler, Image, Proform, Weslo and, Healthrider. This is one of the reasons which makes these safety keys one of the best-selling products in the market.
IMPRESA Replacement Treadmill Safety Key
Features
Next, we have the Impressa Replacement Treadmill Safety Key. This is a standard fit safety key which has an ideal design, and it can fit over 2000 treadmill models. It is not a magnetic key, as our previous product, but it has a rather conventional design. The key is made from ABS plastic, which makes it extremely durable and long-lasting.
Furthermore, the clip is attached to a high-grade braided cord which further increases the quality of the product. In addition, the safety key, including the braided cord, weighs less than ten grams, making it ultra-lightweight and very easy to use.
1″ Safety Key for Proform and Weslo Treadmills
Features
Lastly, we have the safety key manufactured by KOVE. It has a standard-sized one-inch design which is ideal for most treadmills. This safety key is also not a circular magnetic key, which is an important thing to keep in mind. It has been designed to suit treadmills made by Proform and Weslo, part number 119038 and 119039.
The unit is designed to be user-friendly, which is quite evident by its simple design. It has been made to target a specific set of units but can be used with a variety of models. The best thing about this safety key is that it comes with a warranty of 30 days, boosting the customer's confidence.
Things You Need to Know About Treadmill Safety Keys
Using a treadmill may seem like a basic thing, but there are various safety hazards involved. In order to ensure maximum safety, there are some important factors to keep in mind. One of the main factors out of these is a safety key.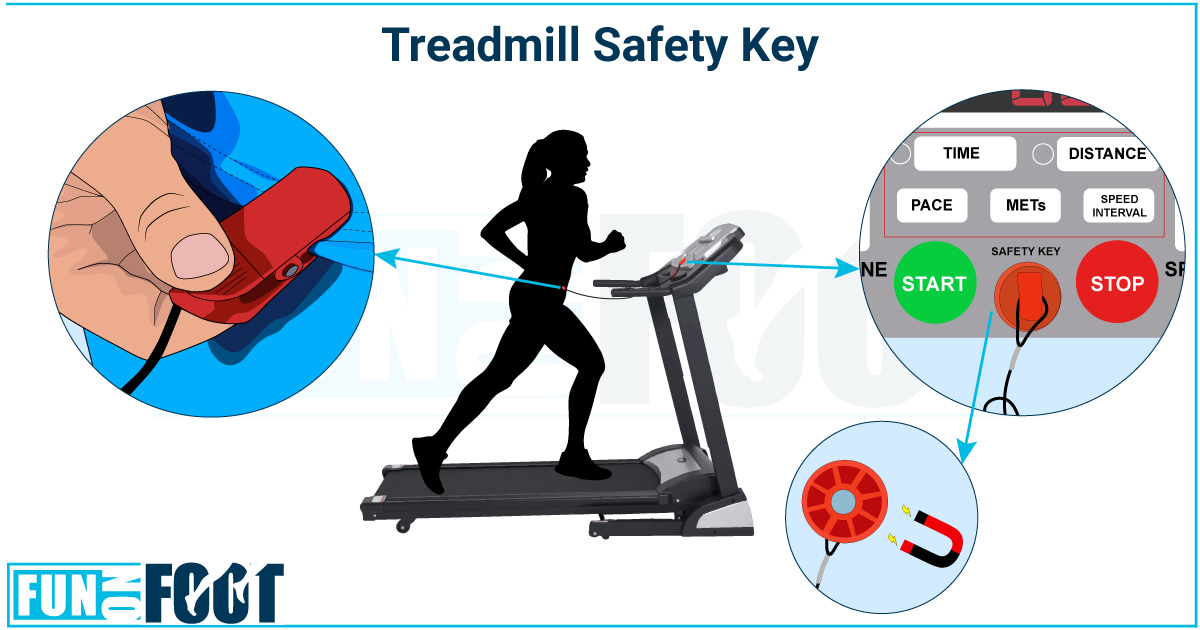 A safety key, as we've discussed earlier, is an emergency stop feature for the user. To fully utilize this safety feature, there are some key elements to keep in mind. Listed below are some of the important things about treadmill safety keys.
A treadmill safety key is one of the most important safety features in a treadmill. It provides the user with an extra bit of control, in case an emergency stop is needed. There are many different reasons why you would need safety keys; we'll discuss them further in this article.
Usually, a treadmill cannot work without the safety key. If you lose the key and can't find it, you'll either need to buy a new one or get your machine electrically reprogrammed by a professional. If you try to open up the unit and play around with the wiring, something could go wrong, and you could also void the warranty.
Why You Need A Safety Key For Your Treadmill?
As we've discussed what treadmill safety keys are and what are the important things related to them, now we'll be talking about why you would need one. There are different scenarios when you would need a safety key. Some of them have been briefly explained below.
If you have young kids at your home, you can really use the safety key. Place it in a safe place so kids won't be able to use the unit. Whenever you need to use it, just plug and play.
Safety keys also come in handy if you're using the treadmill at a high pace and start to lose your balance. Slowing down the treadmill takes some time. In this type of scenario, either you can pull the safety key out, or it will automatically come out if you go further back than usual.
Running or jogging on a treadmill is quite different from running in the open. A lot more focus is required as there's no friction, and you stay in one place the whole time. In case you get distracted, or there's an attention lapse, there's a chance of injury, even at lower speeds. This is where a safety key will come into play right when your body gets away a little too much.
How To Find the Best Treadmill Safety Key Replacement If You Lost It?
As important as a treadmill key is, it is fairly easy to lose it. It can go missing while moving from one place to another or even putting it somewhere and forgetting it later on. This can cause real annoyance as the treadmill won't work without it, as already discussed above.
In a situation like this, you need to get a new safety key for your machine. There are a few things to keep in mind while looking for the best treadmill key, which includes the following:
Compatibility
Coming towards the primary factor, it is important to check the compatibility. It is the most important factor out of all. Giving a lot of thought to your decision and then buying a product only to find out that it doesn't work with your treadmill can be really frustrating. So, you need to make sure the safety key you are buying is compatible with the treadmill you own.
Material
Now, the durability of safety keys depends on the material out of which they are made. Any person looking for a new key would want to buy a product that lasts long, just like any other product. The use of ABS plastic is highly preferred as it is quite long-lasting and suits even frequent runners. Other than this, a braided cord is recommended for long-term use.
A Treadmill Can Work Without the Safety Key
Most treadmills are designed to not work without safety keys. In fact, the sole purpose of a safety key is to make sure the treadmill has an instant stop feature, as we discussed above. Once the key is removed, the treadmill will instantly stop to work.
However, many people tend to lose the safety key of their unit, which becomes quite a nuisance. In order to address this issue, there are many replacement keys available online and in the market. Secondly, you can also get your treadmill to work without a key. However, if you make some changes in the wiring of the unit, make sure to get it done by a professional.
How to Make a Treadmill Work Without the Key?
Treadmill keys enable treadmill operation, and serve as safety keys. The safety switch can be bypassed, which requires knowledge of electrical wiring. Bear in mind that warranty will be void, if you tamper with the treadmill. Treadmill keys are manufacturer specific. Hire a professional electrician, if you can't manage to do the wiring.
How to Turn on Treadmill Without Key?
A treadmill key is a magnet controlling the treadmill. A magnet fitting into the key slot will help to turn the treadmill on and off. Insert and remove the magnet, just as you would fit a treadmill key. If the magnet causes a problem, it may void a valid warranty on the treadmill. For some treadmills, this is not a viable solution.
Summary
To sum it up, we can confidently say that you have a much better understanding of what a treadmill safety key is and to use it. We also talked about why you would need a safety key and what makes a key the best choice for you.
Moreover, we have also discussed the top treadmill safety keys available in the market and highlighted their top features for you. The important thing is to understand the requirements you have and then start looking for a suitable product.