If you are in search of low impact workout programs that will help you get the same amount of calories burned as jogging, then you would be well-advised to consider an incline trainer and a high incline treadmill.
One of the best ways to lose weight, tone your leg muscles and burn calories, without any impact on your joints, is incline training. This is best achieved by adjusting the speed to lower setting but a higher incline.
When you have made up your mind to purchase an affordable incline treadmill, you have essentially made a big decision regarding the improvement of your health and overall fitness. The next step is to decide as to what machine will suit your incline training the best, in terms of your body requirements, fitness goals, space, and budget.
Treadmills can vary a lot when it comes to pricing and can easily range between 500 to 6000 dollars on average, depending on the brand, quality, features, and functionalities you are after.
Some of the commonly opted options are either a treadmill, or an elliptical trainer, or a stair stepper. What if you can have all these three combined into a single hybrid machine so you can reap all the benefits that these 3 are meant to offer? The answer is you can, in the form of an incline treadmill.
Incline treadmills offer great preset workout programs, including interval training, and options to track your workout data such as heart rate, calories burned, etc. If you don't have big spaces at home, then a folding or compact treadmill is a good option, and you may choose either a manual treadmill or a motorized treadmill.
Recommended Incline Treadmills
Who Makes the Best Incline Treadmill?
| Name | Type | Features | Price |
| --- | --- | --- | --- |
| AURALLL Treadmill Incline | Folding | Ultra thin | under $1000 |
| Sunny Health & Fitness SF-T7515 | Folding | Bluetooth | around $500 |
Some other prominent and functional features include 7 layered diamond running belt, quiet and energy-saving motor, and a 56cm wide running deck so you can place those strides with peace of mind and confidence.
The inclined treadmill offers you a range of slope or uphill settings that can power your workout programs, and at the same time, will not be burdensome on your knees or joints. This type of treadmill can also burn more calories as compared to the standard option. If you want to stay fit in an effective and efficient manner, without heading outdoors or traveling to the gym, then you can choose a high incline treadmill, install it at your home, and enjoy your exercise within the comforts of your home. Now you can choose the time of your workout and you do not get this flexibility with walking outdoors or heading to the gym.
Like with any machine or exercise equipment, an incline treadmill needs to cover some basic aspects for it to be completely efficient and provide you with value for money. Some of these aspects include decent size, motor strength, workout guidance, fitness monitoring, quietness, foldable or collapsible, and entertainment related features. Also, who are the users of the machine? It is vital to keep that in mind as the specifications regarding weight and height must be kept in mind before you make that all important purchase.
This guide aims to take you through some of the best incline treadmills available in the market these days, as well as highlight certain key considerations that you need to factor in before making that all important decision to purchase one.
Best Incline Treadmill Reviews
Incline trainers can be seen as a special product and only a selective few brands manufacture them. We have shortlisted some of the best incline trainer brands (home gym use as well as commercial purposes), so you save the time and hassle of doing so. Let us dig deeper into them and then you can decide for yourself which one suits you best.
AURALLL Professional Treadmill Incline
This AURALL professional incline trainer can be used either at home or your office.
Features
This quiet treadmill prides itself on the ultra-thin walking belt that can easily be moved around and hence save you heaps of space – thanks to its convenient and sturdy portable wheels.
The motor is super silent and hence will not be a nuisance or disturbance to your family members or office colleagues.
Some of its key features include LCD display with blue backlight and the impressive display provides important data such as time, distance, running speed, calories burned, et al.
The folding system is pragmatic and super easy, making it easy to manage after each exercise session.
This incline trainer comes pre-lubricated before it leaves the manufacturing site, so you do not need to worry about making it functional.
Zixin Electric Treadmill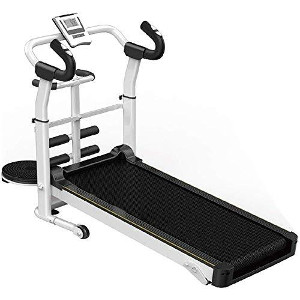 The Zixin treadmill has a sit-ups panel, draw rope and wireless speakers. It can also track your workout data such as heart rate whilst you exercise and build up your core strength.
Features
It has a maximum user weight of 120 kg and its shock absorbing features ensure that you get a natural and free-flowing running or walking experience that is gentle on the knees and joints.
The lubrication system is quite advances as it releases the silicone oil evenly with the passage of time, hence avoiding the need of regular maintenance or re-oiling.
The 2.5HP motor is super silent at higher speeds and low-maintenance. It is quite practical with its easy and intelligent folding system, saving you space and hassle after each use.
Branx Fitness Foldable Treadmill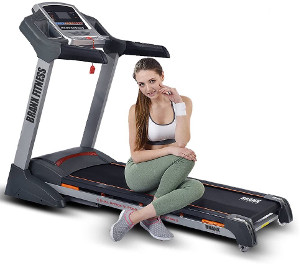 The Branx folding treadmill has an improved model that features 'Bluetooth' and ample running space: 140 x 48cm (1400 x 480mm).
Features
It has a foldable feature and cushioned 'Dual Shock 10-Point Absorption System' that Branx is very proud of, making it excel both in terms of product quality & reliability.
It provides you super intense treadmill workout programs as you can reach speeds of 21km/h (13mph) top speed.
It comes standards with great warranty features such as 2 years on parts and labour, and 5 years on frame and motor. The product is CE/ROHS/EN957 & ISO9001 Quality Control Certified and up to GS Standard.
Bluetooth Nero Pro Treadmill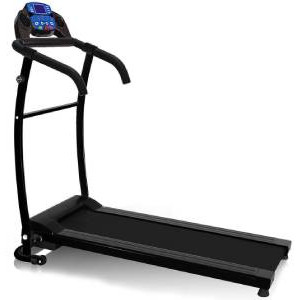 The Bluetooth Nero is a technologically advanced exercise machine in the true sense of the word.
Features
It provides Bluetooth connectivity and can be accessed through a free application. Once connected, you can pair your iPhone, iPad & Android gadgets and devices to your incline trainer for a more interactive and online exercising experience.
You can log training activity in indoor & outdoor running modes and also be assisted by preset Google maps.
You also get a table stand, 3 level manual incline, pulse sensors (to monitor your heart rate), 12 auto and manual programs, and a free drinking bottle (very thoughtful) to keep you hydrated at all times.
This treadmill folds easily for storage purposes and saves you ample space when not in use. The display features quick keys and LED display that provides useful data for record and review such as time, speed, distance, calories burned et al.
YYLK 3 in 1 Household Folding Treadmill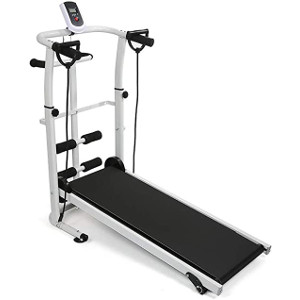 This YYLK folding treadmill is designed to be used at home, and offer you space and convenience due to its efficient folding mechanism.
Features
This model has a new safety belt design for enhanced running pleasure and at the same time, offering a safer environment for its users.
It has rubber shock absorption and also features cushioning relative force, which ensures that the runner's joints and knees stay protected and safe from any harsh impact during use. The belt has a bold thick bracket and is durable and sturdy. All of this collectively ensures that this incline trainer can easily and safely be used by heavy runners.
It offers user-friendly roller design and the push-pull placement is simplified too.
What to Consider When Selecting an Incline Treadmill?
Let us review some important practical considerations that you need to consider before finalizing the best incline treadmill for yourself.
Highest Incline on the Treadmill
The maximum incline settings for these cardio workouts range from 30-40%. The incline settings can be adjusted to focus on different muscles. The resistance levels can also be increased if you are looking to build lean muscle, toning or simply building bulk body.
Decline Level
The basic incline trainer comes equipped with uphill training features but not downhill options. The decline feature can only be found in the latest and more advanced models with decline level of 3% being most commonly available, and can 'go up to' 6%.
Size
Before you make the purchase, always ensure that you know the exact space or location where you intend to place the incline trainer and the measurement of the available space on the floor. These incline trainers are available in all shapes and sizes and are also readily available in sizes that are compact and require less room for placement.
This is a key feature for those who are pressed for space and hence every inch counts. These machines also typically come with repositioning wheels that allow the incline treadmill to be easily moved and pushed around if required, before or after a workout.
Design
Some of these incline trainers are no different in aesthetics from other treadmills. Then there are models which will have two long pedals (or treadles) as opposed to tracks. This allows for a low-impact exercise as the user's feet will stay on the running surface at all times, reducing the impact of lifting and placement back on the belt.
Running Track Length
In a lot of incline models, the running surface length will be shorter as compared to standard other treadmills as the strides tend to be shorter when you are walking on a slanted position, with extra length only being required for running strides. With the passage of time, there are now multiple incline trainers (primarily manufactured by top tier brands and models) that have 60" (or longer) treadles, with some even providing up to 22" extra-wide tracks, depending on the user's requirement.
Built in Workout Programs for Incline Training
Almost all incline trainers provide integrated workout programming, however, this may change from model to model. There are certain machines that will provide wireless connections so you can download programs of your liking to suit your workout style and offer you diversified exercise program options.
Incline Trainer Cushioning
An incline trainer also need to be equipped with shock absorption to minimize the impact of movement on your knees, joints, and lower back in particular.
Max User Weight
If you are overweight or generally heavy, this is a very important consideration. Generally, most of the machines will offer a weight resistance of 300 – 400 lbs, and if that is a higher bracket, then you can always consider something lighter, without compromising on the features and functionalities of the incline trainer.
Price
This is stating the obvious, but with incline treadmills, the range can be quite wide, and you should expect to pay anywhere in the range of $500 to $3,000, generally speaking.
Your budget will have a huge impact on the machine you want and what you can afford. At times, they may coincide, but on other occasions, you may have to compromise, and then it will be a balancing act, as to what is most important to you in a treadmill.
Cheap treadmills with incline will certainly compromise on quality and features. It is strongly suggested that you invest in a high-quality machine that is safe, lasts longer, and that you stick to it for many more years.
Added Incline Treadmill Features
Best incline trainers that tend to be pricier, come with standard luxury features such as cooling fans, touch screens, and tablet holders. These are meant to enhance the exercise experience of the user. These features can be reviewed and compared across different models to see their effectiveness, functionality and ease of use. It is important to ascertain the utility of each of these added features to your daily workout regime; if not, then these are just extras that you are paying for without any value addition or benefit.
Closing Thoughts on the Best Incline Treadmills
Incline treadmills are ideal for power walking and provide you with the versatility as they can concurrently provide cardio training, faster calorie burning and zoned muscle toning. They are also a great option for those looking to have a low impact workout routine given the problems that can be developed with joints or those who are aged.
A high incline treadmill can provide a fairly steep incline when used on the maximum incline setting, providing a tilt of up to 30-40%, as compared to a 20% slope on a traditional treadmill. It is the diverse slope settings afforded by these incline treadmills that make them a hybrid equipment – a treadmill, an elliptical trainer, or a stair stepper. Moreover, a lot of these incline machines comes with decline settings as well, if you are preparing yourself for those marathons or climbing.
This guide should provide you with enough fodder in terms of research, on the basis of which you can compare the various brands, prices, features and options of best treadmill available to you in the market.
The perfect incline trainer setting will vary from person to person and may be increased as your stamina and fitness levels increase. A good setting that you can start on is 2% – 3% incline and gradually built-up the intensity as required according to your fitness goals. All said and done, you should always rely on your instincts and listen to what your body is telling you. Always consult a physician or a fitness trainer if you feel any discomfort, pain, dizziness or niggle whilst you step the incline settings or generally use the treadmill.